Insist on the #1 ranked fish oil
Regular price
$39.99
Sale price
$39.99
Unit price
per
Sale
Sold out
Recognized as best value by Labdoor.com
One pill packs in the Omega-3 of three regular pills
Distilled to remove mercury and cholesterol
View full details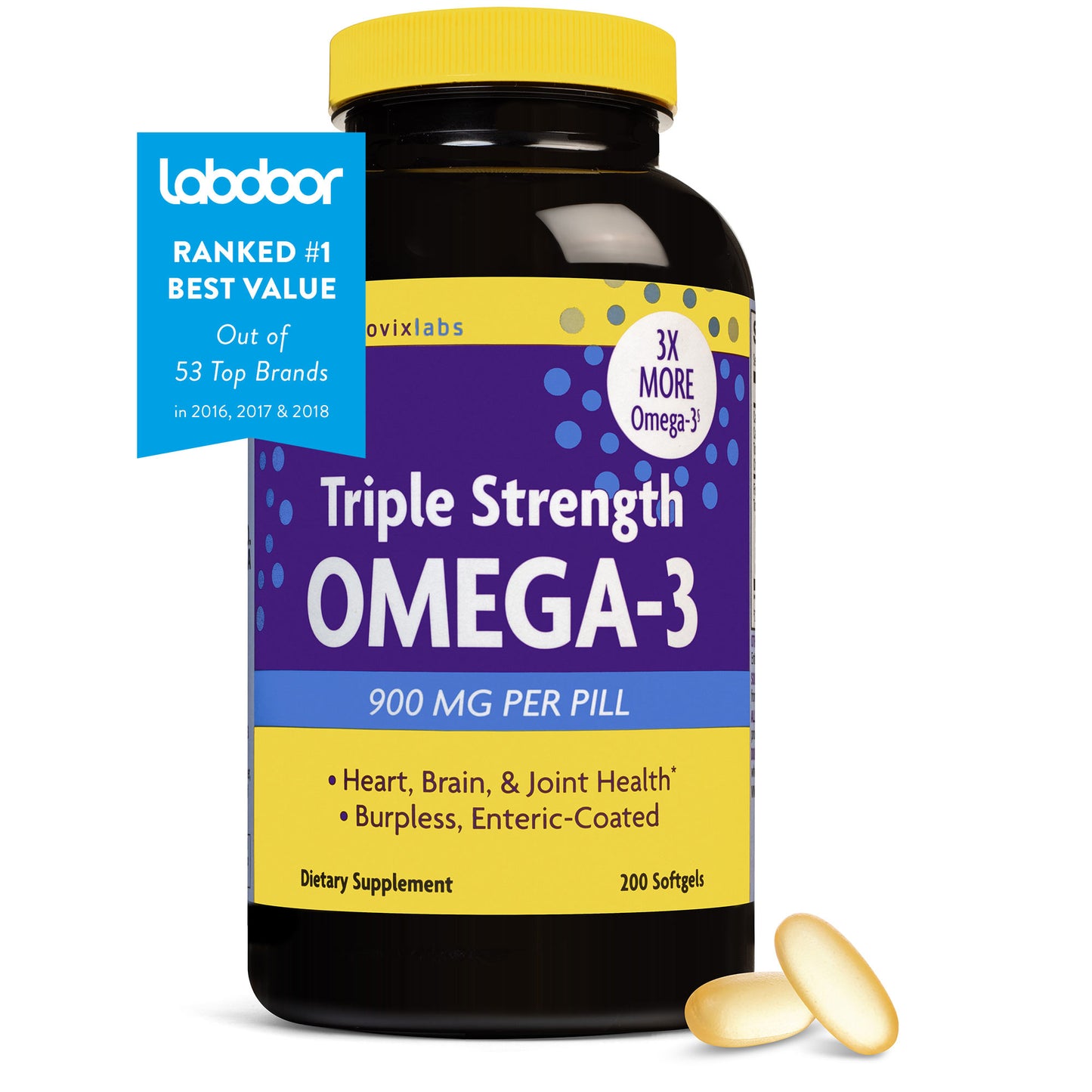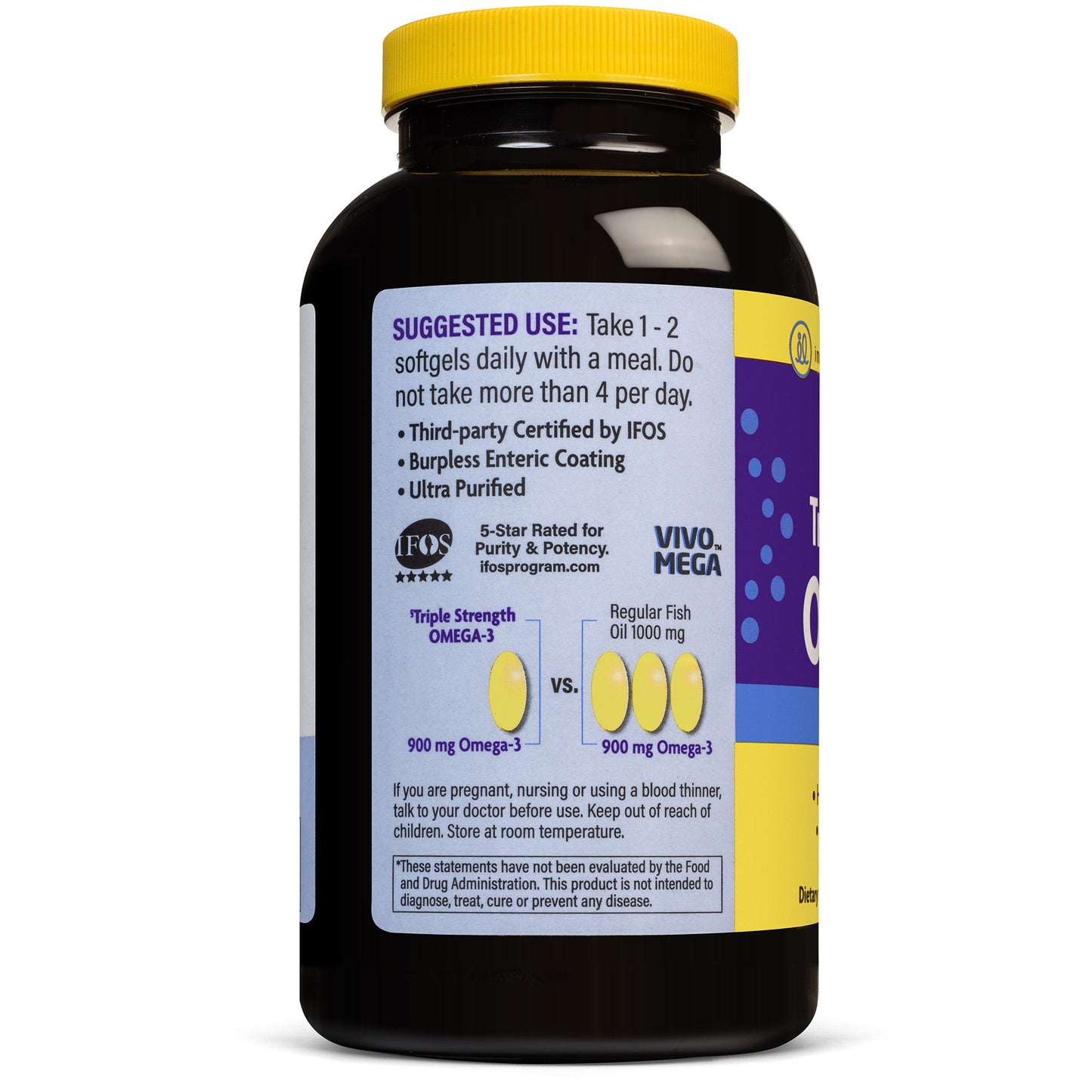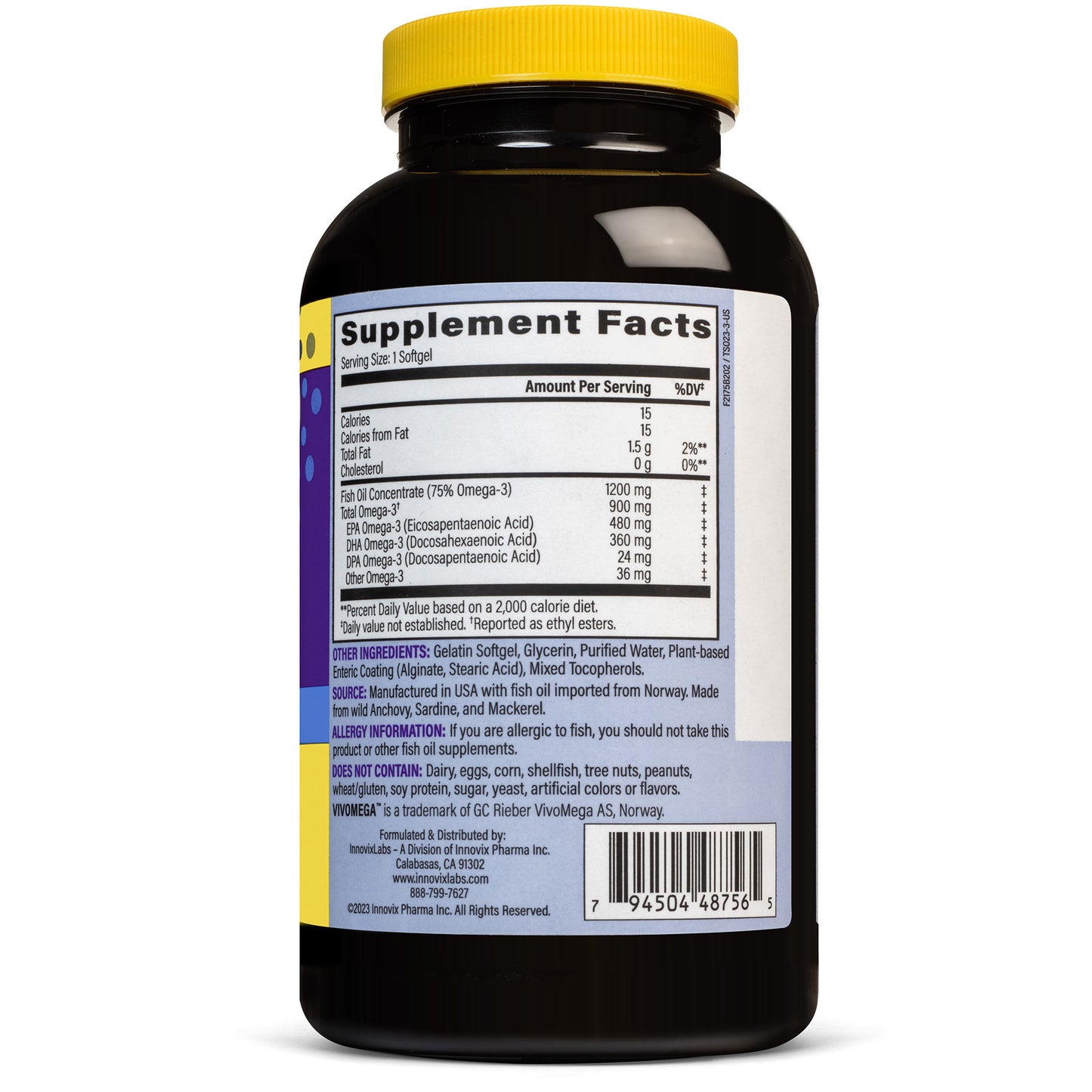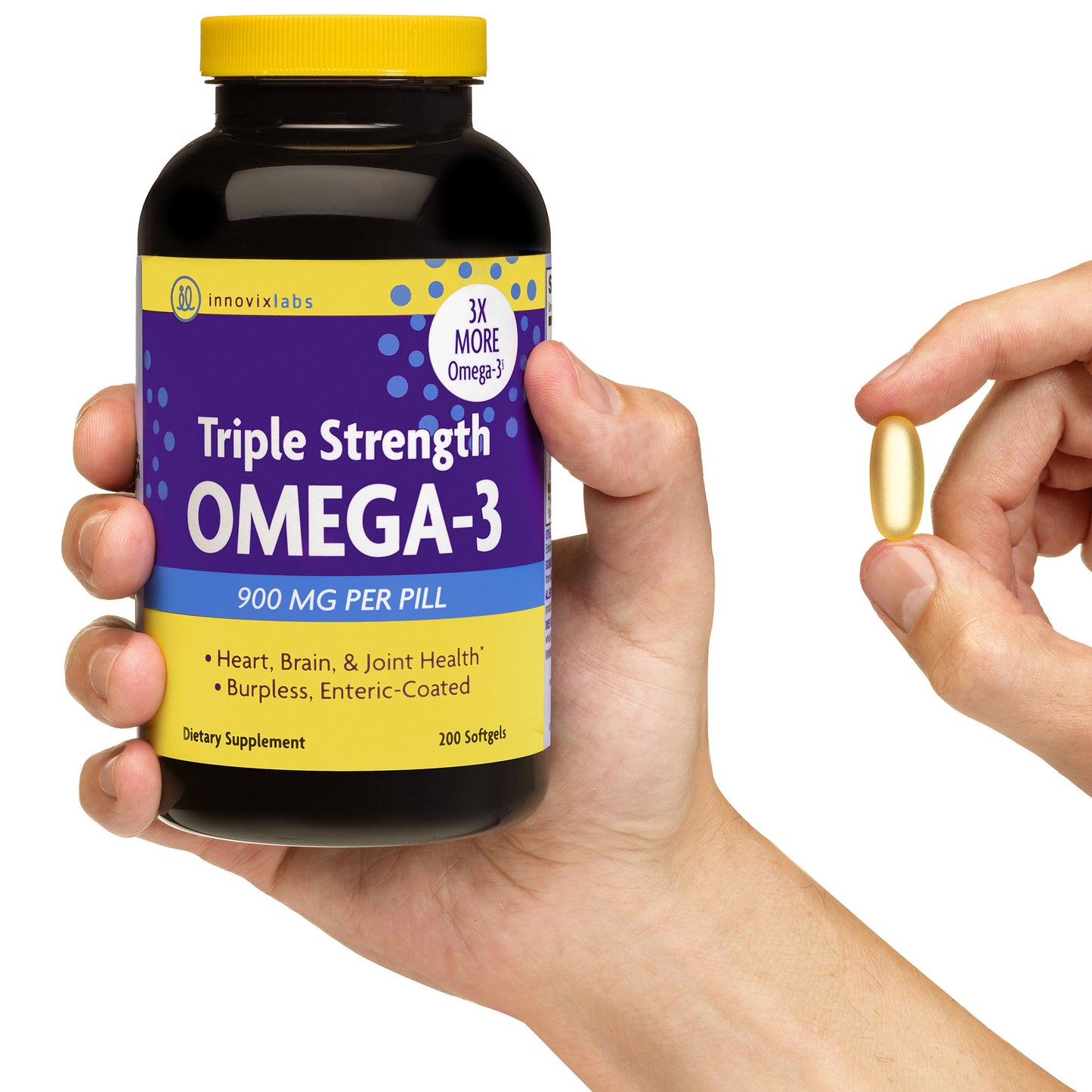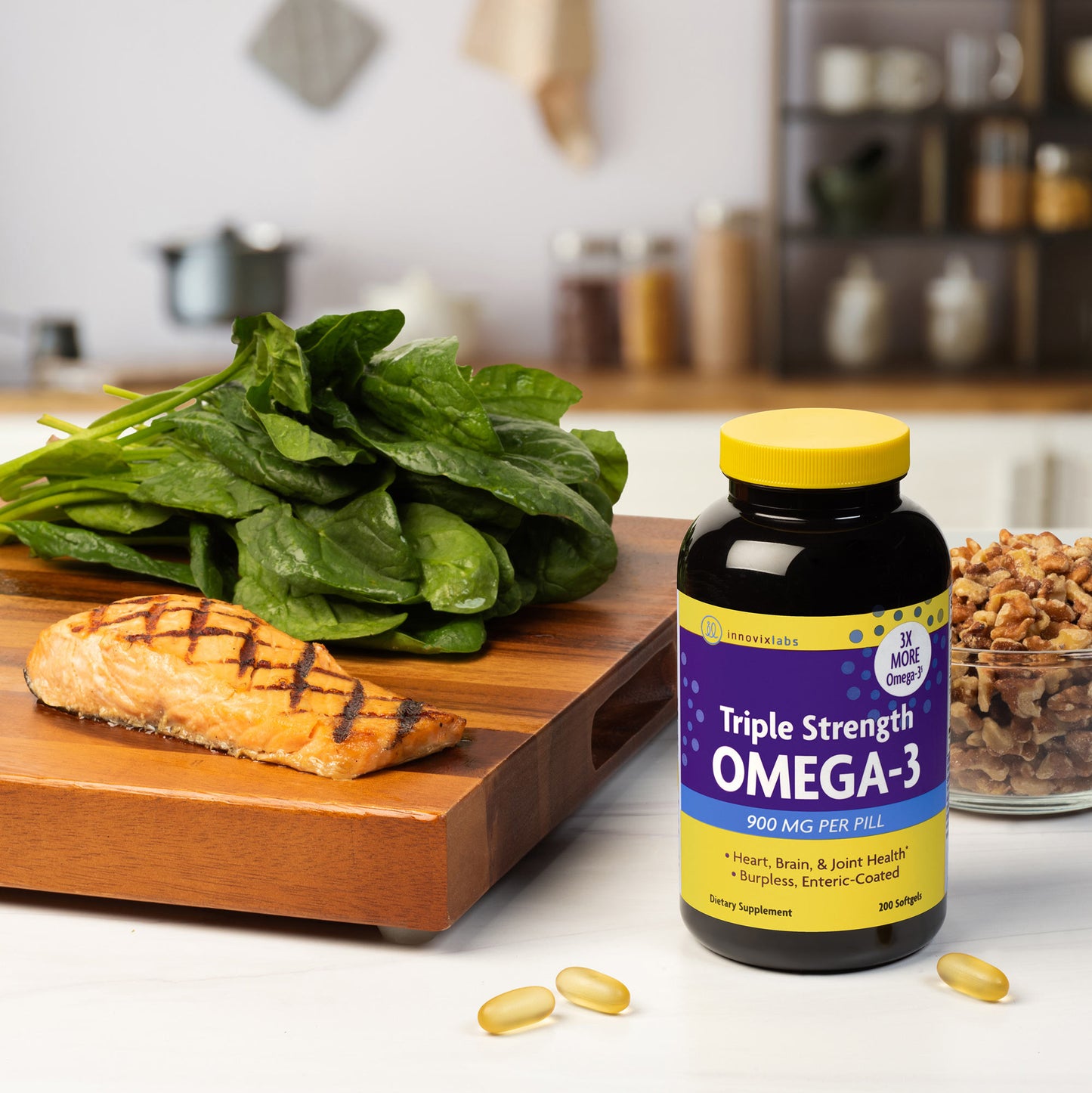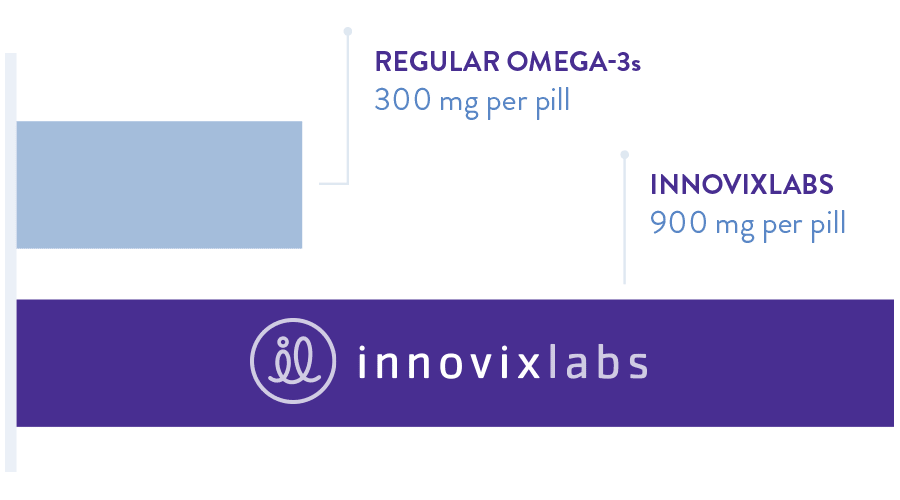 Something's fishy.
Omega-3 occurs naturally in fish oil, which is also widely retailed in 1000 mg doses—but that 1000 mg dose typically contains only 300 mg of Omega-3. The other 700 mg are fats your body doesn't need. InnovixLabs' Triple-Strength Omega-3 contains 900 mg of Omega-3, or three times as much as a regular fish oil pill.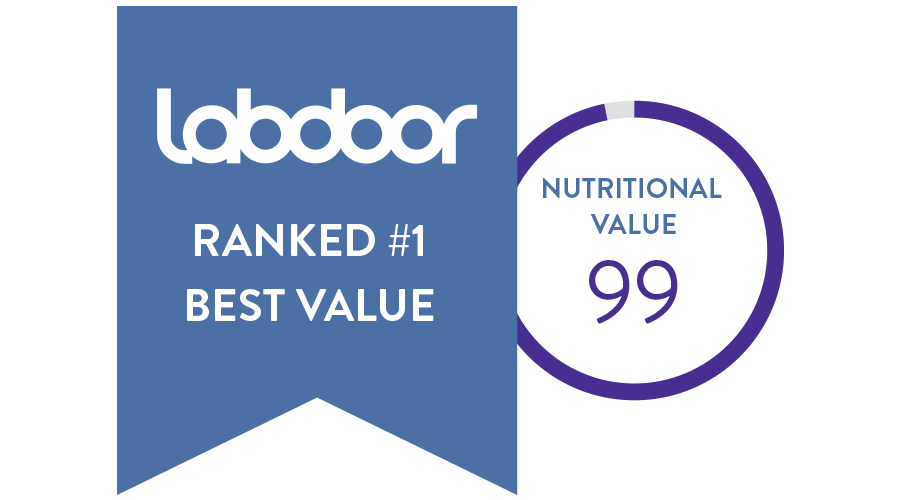 Potency matters.
Higher concentrations of active Omega-3s means less filler and better value. That's why our Triple-Strength Omega-3 was ranked #1 Best Value out of 54 top fish oil brands by Labdoor.com in 2016, 2017, and 2018.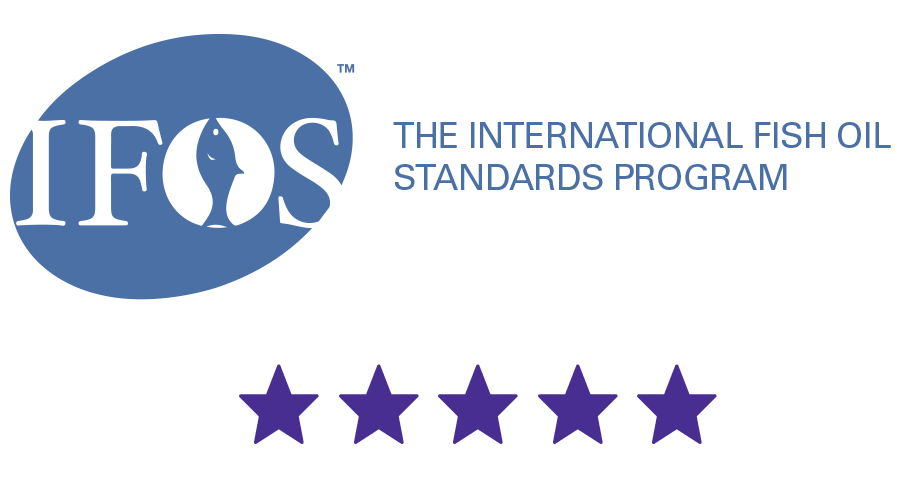 Purity matters, too.
There's no need to trust what any brand tells you about its Omega-3 ingredients or formulas. That's why we're 3rd-Party Certified for your peace of mind. IFOS (International Fish Oil Standards) gives our Triple-Strength Omega-3 supplement a 5-star rating, and our pills are purified to remove mercury and cholesterol.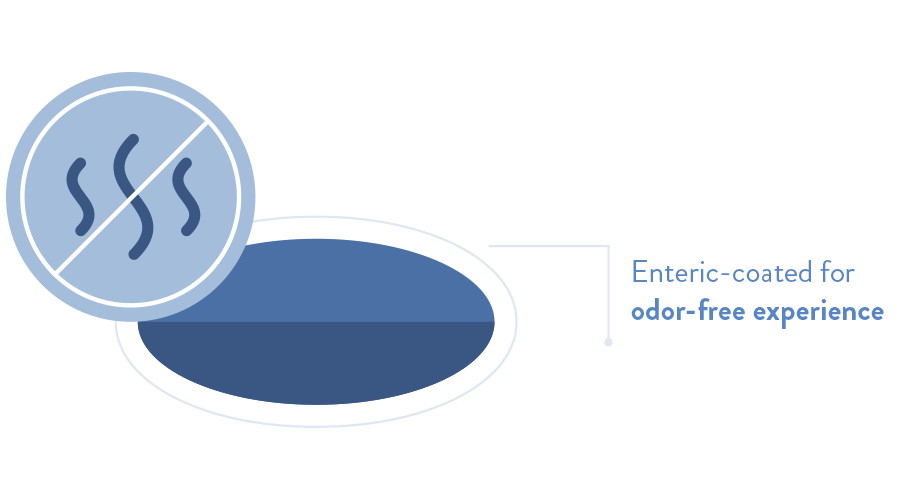 Now with less "ick."
Don't let fishy burps dissuade you from Omega-3s. InnovixLabs' Triple-Strength Omega-3 pills are enteric-coated for a pleasant, odor-free experience.
"A website I trust rated this product as the best value. They're easy to swallow, and minimize the burps. Can't recommend Innovix highly enough."

Winston C. Atlanta, Georgia
Molecular distillation to ensure pristine purity
Absolutely contains no GMOs (genetically-modified organisms)

Gluten-Free
Safe for children 10 years and older
Directions
Best if consumed daily with or just before a meal. As a dietary supplement, take 1-2 capsules per day. Do not take more than 3 capsules per day unless recommended by a doctor. You may take 2 to 3 capsules at once. However, if you have not taken Omega-3 before, it is best to start with one capsule at a time to see how your body reacts.

Safe for children 12 years and over.

For specific health conditions, please consult with your doctor. If you are already on blood-thinning medication, please consult your physician before taking.
Certified Sources
Quality and Honesty is our promise.
Ingredients: Concentrated fish oil, bovine gelatin capsule, vegetable glycerin, purified water, plant-based enteric coating (alginate, stearic acid), mixed sunflower tocopherols.
High quality is our key concern with Innovix Labs, especially with our Triple Strength OMEGA-3 pills.. That is why we have taken extra steps to optimize Omega-3 benefits for you and your health. We ONLY use IFOS 5-star certified fish oil. IFOS is a third party that has rated and certified our pills for purity, potency, and freshness. We ONLY use wild-caught, cold water, sustainably sourced fish oil. Capsules are made, tested and packaged in USA for your peace of mind. Each gelatin capsule is made with premium kosher and halal-certified bovine gelatin.

Click on the IFOS logo below to see the IFOS third-party Certificate of Analysis for yourself.

DOES NOT CONTAIN
Dairy, eggs, corn, shellfish, tree nuts, peanuts, wheat/gluten, soy protein, sugar, GMO, Chinese ingredients, artificial colors or flavor.
Are your Omega 3 products produced in triglyceride or ethyl ester form? Thank you! Gene

Hi Gene – the Omega-3 products are in ethyl ester form. The Omega-7 is in triglyceride form. If you are interested in triglyceride form Omega-3, try the products from our sister company, OmegaVia at http://www.omegavia.com

InnovixLabs Customer Service

Wondering how many IUs of Vitamin D (and what type–D2, D3, etc.) are in each capsule of the Pharma-Grade, and the Triple Strength. Thanks! Jenn

Hi Jenn – neither the Pharm Grade Omega-3 nor the Triple Strength Omega-3 have any Vitamin D2 or D3 in them. We strongly believe that Vitamin D (in the D3 form) should be supplemented separately. D2 form is very poorly absorbed and should not be consumed. The amount of D3 you supplement every day depends on the time of the year, how much sun exposure you get, and your blood level of D3. Everyone needs a unique daily dose of D that needs to be determined by your doctor after a blood test. Most people do well with around 4000 IU per day – less in summer/fall and more in winter/spring. Omega-3 products that also contain D3 almost always contain way too little. Since everyone's D3 needs change from season to season and person to person, we have not added any Vitamin D3 to our products. - InnovixLabs Customer Service

Hi, Can you please let me know what size the capsules are? 00? 000? Thank you. PD

Hi PD – Size 00 and 000 are size metrics for two-piece hard shell capsules. This product is not a two-piece hard shell capsule but a soft gelatin or softgel capsule. Softgels have different shapes and sizes. This is an oblong 22 size – even among oblong 22s, there will be variation in sizes depending on how much oil each softgel is filled with. This page has a picture of capsules next to a penny for size comparison. Hope that helps. https://innovixlabs.com/products/triple-strength-omega-3/

Hi , Do you ship to Kuwait? Islam

Hi Islam – we do ship to Kuwait. You can place your order from this website. - InnovixLabs Customer Service

My vet said to introduce omega 3 supplements for my cat's skin health. Is this product safe for cats? How much should I give? Jodi

Hi Jodi – The product was not designed for cats at all. The oil inside the pills may be very good for cats, but the pills are way too big. And there is enteric coating that cats do not need. Instead, we suggest you get a liquid salmon oil product that comes in a squirt bottle. Most good pet stores have them. - InnovixLabs Customer Service

I understand that most fish oils contain Vitamin A. Does the Triple Strength Omega 3 have Vitamin and if so, how much? Thanks!

Hi Janine,

Our Triple Strength Omega-3 does not contain Vitamin A.

Regular fish body oils only contain trace amounts of Vitamin A. Not much to speak of. Fish liver oils, however, are a slightly better source of Vitamin A, but liver oils are generally higher in environmental contaminants, so the small amount of Vitamin A is eliminated during purification and concentration.

Traditional (grandma's) cod liver oil used to have some Vitamin A, but modern purification and concentration techniques remove the Vitamin A from cod liver oil too. Some traditionally manufactured artisan cod liver oils still contain Vit A, but those often have oxidation or contamination issues. Some mass market cod liver oils (think big brands in big stores) have Vit A added back to appear more complete. 

If you're looking to ADD Vitamin A to your diet, then modern fish oils are not it. You're better off getting it from foods and or Vit A supplements made from non-carotenoid sources. 

Hope this helps. 

Sincerely, 
InnovixLabs Customer Service


Is the Bovine Gelatin Halal certified for Muslim to consume? Thank you! Ismail

Hi Ismail Bin Che Mat,

Yes, the gelatin is certified Halal. 

Sincerely, 
InnovixLabs Customer Service

If I take two capsules per day for 100 days, may it go bad in the meantime? I am worried.

Hi 싱글,

The product will not go bad. The Omega-3 capsules are good for 3 years after manufacture. The expiration date is printed in the side of the bottle. Fortunately, the product that is for sale is almost always just a couple of months old. We make a fresh batch every few months. So, no need for concern. 

Sincerely, 
InnovixLabs Customer Service

Can you please tell me what type gelatin used to make the capsule for this product?

Hi Carl - the gelatin source is bovine.

I have a really important question. These pills are distilled to remove Mercury and other substances. Would this also remove the iodine in them. Please take the time to ask and find out before responding. I hope so I have a thyroid condition and I cannot consume additional iodine. Do they contain iodine and if so how much? Thank you very much

Hi Nancy, since you are dealing with a thyroid condition, you need specific numbers, which, unfortunately, is not possible. Here is the reason why: crude fish oil, especially from the sources we use, does not contain much iodine. After the standard purification process, there will be somewhere between trace and zero parts per million iodine. On a per pill basis, it will likely be close to zero micrograms. We know this is not a specific answer and we apologize for that. Since iodine is an essential nutrient, it is not considered a contaminant and therefore, we do not test or monitor it like we do mercury levels. We hope this gives you/your doctor enough information to make a decision. 

Hi is it safe to take your triple strength omega 3 capsules in pregnancy as a prenatal supplement?

Yes! It is safe to consumer Omega-3 (this supplement) during pregnancy. Each pill contains 360 mg DHA Omega-3, which is critical during pregnancy.

However, if you're pregnant, it is always best to run this past your OB/GYN. 

Sincerely, 
InnovixLabs Customer Service

Can the Triple Strength Omega 3 capsules be stored in the refrigerator? I keep my house somewhat warm in the summer and am concerned about the fish oil going rancid if I leave them at room temperature (about 85 degrees).

Hi Katie,

Yes, you can certainly keep it in the fridge. Cool or cold temps will preserve the Omegas.

What we generally suggest is that if you buy multiple bottles, is storing the unopened bottles in the freezer or fridge until you are ready to open it and start using the bottle. The 'working bottle' that you open daily can be left out at room temp. Keeping an open bottle at room temp for a couple of months will not cause rancidity. 

The only issue that we can think of with opening a refrigerated bottle daily is that if you live in a humid part of country, there is a possibility of some moisture condensing onto the surface of the capsules. Over time, that could cause issues like clumping, leaking, or even mold growth. 

Sincerely, 
InnovixLabs Customer Service

Os ingredientes são seguros para uso na gravidez?

Sim, todos os ingredientes são seguros para uso durante a gravidez. Por favor, consulte o seu médico para obter orientações adicionais.

InnovixLabs Atendimento ao Cliente
Great quality fish oil
Good fish oil, easy to swallow, and has all the health benefits of Omega 3 fatty acids.
A+++ Customer Service!
My wife & I have been using Innovix Labs Triple Strength Omega 3 for about a year now & we LOVE the quality and consistency of the product! Recently, we ordered thru Amazon as before and had a "less than stellar" shipping experience when our package arrived open and empty of product. I refused the delivery and set about the task of notifying Amazon. Amazon customer service directed me to contact the seller... Strange, since Amazon fulfilled the order, I thought they should handle it, since it wasn't the labs fault in any way..... After emailing customer service I was very surprised (and delighted) to receive a telephone call within the hour to confirm my shipping address and arrange to send replacement product at no charge! When I offered to pay (since Amazon had reversed the charge to our account) I was told "Sir, we care more about quality of customer service and your satisfaction with our product"
I was raised in a customer service family.... This was the norm 50 years ago.....I had come to believe it did not exist any longer. Thank You for showing it still exists!
Steve Blake
Omega 3
This has been a daily supplement for me for years. I've tried many, this one is a great potency at a great price.
Basically love auto delivery
They almost always contact me before delivery. I love that!!
Great product. Not carried by others
Good price, product, and service
I was glad to find these omega-3s at a good price and shipped here when expected. Thanks so much!
Triple strength omega 3
Easy to swallow and no aftertaste at all!!
Excellent
Definitely one of the best fish oils on the market. Not only do they purify from metals but it's fresh and bioavailable.
Best capsules on the market!
My Dr. recommended this brand and it is the best brand I have used.
Triple Strength Omega-3
This company has terrific customer service with knowledgeable staff! The product is high quality and a good value with only one capsule dosing. I try to stock up during sales!