Give your gut the upper hand
Regular price
$29.99
Sale price
$29.99
Unit price
per
Sale
Sold out
Wide variety of strains plus Prebiotic fiber
Stomach acid-resistant capsules
Always 100% GMO and gluten-free
View full details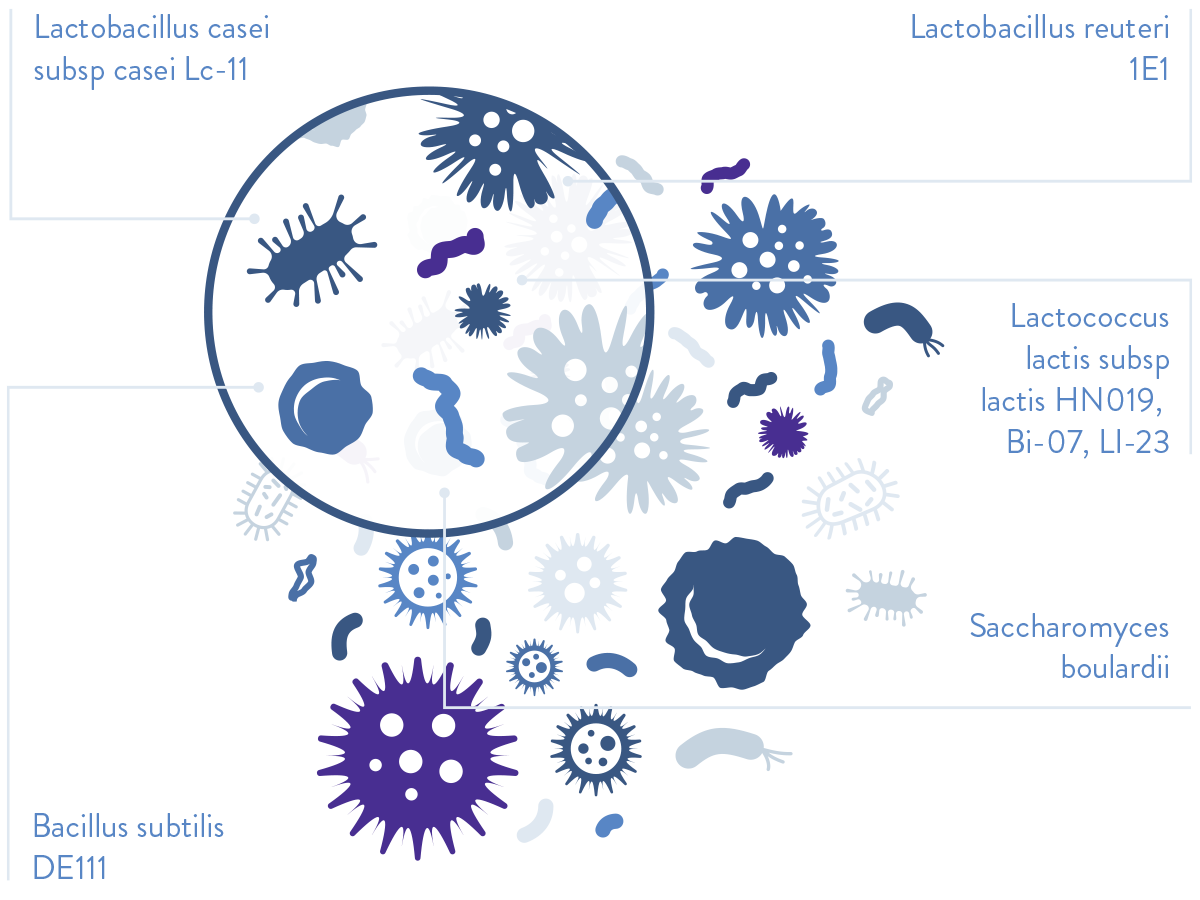 Wide Variety of Probiotic Strains + Prebiotic fiber
A healthy gut has a diverse assortment of bacteria. So should your probiotic.
A high-diversity probiotic can help restore the natural diversity of your gut flora that's lost to stress, poor diet, and medications.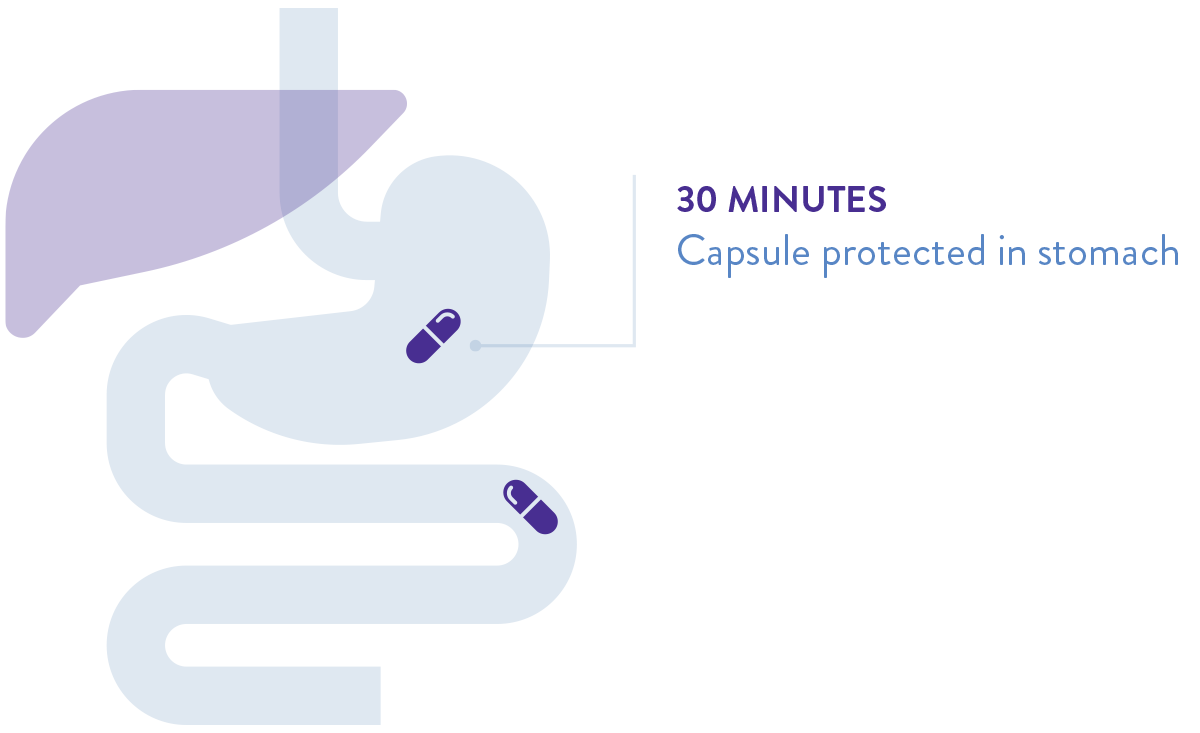 Stomach Acid Resistance
About 90% of probiotics are killed by stomach acid. This product uses acid-resistant capsules to protect the bacteria. This delivers virtually all cultures into the intestines intact, where they can repopulate the gut.
"I'm a certified health care practitioner and have the gift to energetically test any product for potency, freshness, and benefit claims. I saw a reduction in my bloated belly in the first 3 days and no more discomfort after a meal."

Anna L. California
High Potency

Each capsule is filled with 50 billion live cultures. This ensures good potency right up to the expiration date.

No Refrigeration Required

All strains thrive at human body temperature— no need to refrigerate.

Certified Gluten Free

Third-party tested to contain less than 5 parts per million gluten (complies with strict Celiac requirements)

Easy on Allergens

Does not contain eggs, fish, shellfish, tree nuts, peanuts, wheat/gluten, soy, sugar, GMO, artificial colors or flavors. May contain trace amount of dairy from fermentation process.
Directions
SUGGESTED USE: Best if consumed with a meal. As a dietary supplement, take one capsule per day.
STORAGE: Keep out of reach of children. Store in a cool, dry place (avoid exposure to high temperatures and/or moisture).
ALLERGY INFORMATION: If you are pregnant, nursing or taking any medication, talk to your doctor before use. May contain trace amounts of milk, corn and yeast used in the fermentation process. Made in a facility and processed on shared equipment that handles dairy, soy, shellfish, and wheat/gluten. Individuals extremely sensitive to these ingredients should consult a physician prior to using this product. 
Certified Sources
Guaranteed PURITY, POTENCY & FRESHNESS. InnovixLabs Multi-Strain PROBIOTIC is made with premium ingredients, and produced to the highest standards of purity and quality. All batches are tested and verified by in-house and third party labs for your peace of mind. Made in the USA for safety and reliability.
Is it safe for 8 year old child?

Hi Smita - the capsules are not designed for consumption by children. However, the two pieces of the capsule can be gently pulled open. The powdery contents of the capsule may then be taken with a spoon and washed down with some water. Or the powder may be mixed with other foods.

Some of the stomach-acid resistance of the outer capsule will be lost if you decide to open the capsule and consume the contents. The mild loss in potency from removing the outer capsule may still be worth it, if you wish to introduce these strains. - Innovixlabs Customer Service.

Does the probiotic lose any effectiveness if it is crushed instead of taking it whole? Pat

Hi Pat – it loses some of its stomach-acid protection, but the number of live active cultures will remain the same. - InnovixLabs Customer Service

Good health websites say to avoid corn maltidextrin so can you tell us why you could not use an alternative? Also will you be producing a stronger version as these days 10 billion is fairly low. 50 billion would be prefered. Thanks T A

Hi T A – corn maltodextrin is used as part of the stomach acid reistance (Bio-Tract) technology to transport the probiotics alive to the small intestines. Bio-Tract is a patented and licensed technology, which, like a good recipe, must be followed exactly to achieve the stomach acid resistance. Also, the ingredient is found at less than a fraction of one percent. Given the trace amounts at which it is present, we feel, it serves a vital function while being present in minuscule quantities. - InnovixLabs Customer Service

Does this product actually help a person gain weight? Chris

Hi Chris – there is no proof that it will help a person gain or lose weight. It will help add many often-missing healthy bacteria into the gut and the benefits that could bring. - InnovixLabs Customer Service

I have been reading that L. sakei helps people with chronic sinusitis. My husband has had severe allergies and he has had numerous sinus surgeries, and this last sinus surgery was extremely painful. His doctor had to grind down bone, calcium had grew over one side of his sinuses and he could breathe on one side because of the calcium buildup. The highest pain killers didn't even phase the pain he was feeling even days after his surgery. Needless to say it was an exhausting time for the both of us,but here is my question, if he takes your probiotic with this L. sakei in it, can it help him with his sinuses? Thanks. Terri

Hi Terri – I am so sorry to hear about your husband's experience. I've had the same surgery and it was miserable. We have a lot of customers who seek out this product for sinus purposes. It may help. Frankly, we don't know exactly how much. We added L. sakei to the formula for this purpose. If he swallows the pills, it may not be as effective as opening the capsules and swishing the contents about in the mouth. I know it is not ideal, but having those strains linger in the mouth for a while is more likely to help it colonize the oral and nasal cavity. There are two other options that I think you could consider with your doctor' help. One is easier – you can buy L. sakei as a powder from Amazon.com. It is used in fermenting some foods. You could have him make a solution and squirt in nose. I have not tried it, but I know others who have and swear by it. The second option is somewhat bizarre – I know people who buy jars of kimchi (fermented korean cabbage), which have lot of L. sakei and squirt the juice at the bottom of the bottle into their nostrils. It's unpleasant, but, again, there are people who have tried it. We don't know if either of these techniques work. But please check with your doctor before you decide to attempt either of these unorthodox approaches. Don't attempt either of these 'tricks' in a post-op state…again, work with your doctor. On a separate but related note, inappropriate deposition of calcium in soft tissues like sinuses, gum lining (plaque), heel spurs, kidney stones, arterial calcification, etc. are all classic signs of severe Vitamin K2 deficiency. K2 deficiency is extremely common and can develop in as little as a week if you do not eat K2-rich foods. If you do not address the deficiency, the calcium deposits will continue. We make a Vitamin K2 supplement. You don't have to buy ours, but please consider any K2 supplement that has both MK-4 and MK-7 forms of K2. Couple of links on K2 worth reading:
https://omegavia.com/how-to-choose-the-right-vitamin-k2-supplement/
https://innovixlabs.com/products/full-spectrum-vitamin-k2/

InnovixLabs Customer Service

How long is the valid duration of this multi-strain probiotic? zilu

Hi zilu – the product has a 2-year shelf life from date of manufacture. Since probiotic shelf-life is based on the number of live cultures in the pill, the expiration is a date at which you are guaranteed 5 billion live cultures. So, the product will still contain significant levels of probiotics even after the official expiration date. - InnovixLabs Customer Service

Using probiotics for years — I can tell you that versions with much higher CFUs can cause significant discomfort.. I had been using the old formula (10b CFUs) daily for over a year, up until a few days ago.. I reordered what I thought was the same thing, and received this new formula. 50b CFUs vs 10b is a big jump.. Why wouldn't you have a different stock number for this new product on Amazon's site, and discontinue the old? If you did that, going back to the orders would have alerted me to the fact that the product changed and the old product was no longer available. Rick

Hi Rick – thank you for your comment. We apologize for the confusion. The new formula is the same as the old one in CFU (live culture count). The only changes are the switch from tablet to capsule for swallowing ease and the way the CFU count is listed. Both versions (capsule and tablet) have over 50 billion live cultures (CFU) at time of manufacture. The previous version (tablet) had a shelf-life of 18 months, at which time we guarantee 10 billion live cultures. The original label claim of 10 billion was the number at expiration. This is what we had listed on the label. At 24 months, we guarantee 5 billion live cultures. Current label says both 50 billion at time of manufacture and 5 billion at time of expiration (24 months). There is a normal and natural decline of live culture count in all probiotic supplements. Instead of just stating the count at expiration, we now state both numbers, the starting and the ending number. Most people consume the product with somewhere between 50 and 5 billion, depending on when it was purchased. We hope this clarifies the situation. Again, we apologize for the confusion and thank you for reaching out. If there is anything else we can do, please do not hesitate to ask here or to call our customer service team at 1-888-799-7627. Thank you. - InnovixLabs Customer Service

Hi- I am actually purchasing these for my dogs, one is special needs and had leg removed and urethrostomy, so he has some tummy issues and vet recommended probiotic. We did the milk test with one i give them and this one- your probiotic did turn to yogurt vs mine…. so I am switching to your product. I only see 60 capsules…. since I have 2 dogs- its a one month supply- I prefer to purchase larger quantity- do you sell any larger bottles? If not…. can you start to sell 120ct size bottles? Thanks! Kel

Hi Kel – we do not sell larger bottles. There is only one available size right now. If there is continued demand, we will certainly consider a larger bottle. So, thank you for sharing. BTW, the ability of a probiotic supplement to turn milk into yogurt means very little. The presence of Lactobacillus bulgaricus and/or Streptococcus thermophilus is all that is needed to turn milk into yogurt. And this formula contains it, but there could be several other probiotic brands that do not contain these strains and that does not make those supplements bad. A product with just one strain, say, Bifidobacterium longum, would be amazing for gut health, but is unlikely to make yogurt. There are yet other bacteria that'd turn milk into a stinky, gooey mess, but they are proven to provide specific health benefits. - InnovixLabs Customer Service

Can I take this multi-strain probotic together with Mood Probiotic?

Hi Lucas,

Yes, you may take the Multi-Strain Probiotics with the Mood Probiotic. No issues with combining the two at all. 

Sincerely,
InnovixLabs Customer Service

Does the probiotic have appreciable levels of dairy and gluten?

Hi Rick,

We test gluten levels on every batch and it's always been below detection levels and celiac-friendly. 

Dairy, well, many of the strains are cultured in dairy-based nutrient solutions. It's the 'lacto' in Lactobacillus. So, yes, there will be trace amounts of dairy in this and most other probiotics.

If you're severely allergic to dairy, then you should avoid.

Sincerely,
InnovixLabs Customer Service

Hi, Can you tell me how much of Saccharomyces boulardii is there in your product? If it is a secret, can you at least tell if it is more or less than 8 billion. My naturopath told me to take at least 8 billion of Saccharomyces boulardii per day, and I wonder if I can rely on your product instead of Saccharomyces boulardii supplement I am currently taking. Thanks! KD

Hi KD,

The Saccharomyces boulardii amount is about (or just under) 1 billion per capsule. If your doctor needs you to take 8 billion Saccharomyces boulardii for achieving a specific health outcome, then you will need an separate/additional S. boulardii supplement in addition to this product. 

There are a lot of S boulardii products on Amazon - the brands we trust are: Florastor, Jarrow, Klaire Labs, Designs for Health and Pure Encapsulations. It is really critical to avoid the cheapest products from unknown or unfamiliar brands on Amazon.com. We test a lot of products on Amazon and are no longer shocked at what we find. 

Let us know if we can be of additional help. 

Sincerely,
InnovixLabs Customer Service

Hello, would this product be considered high FODMAP given the small amount of fructooligosaccharides in the prebiotic component of this blend?

Hi,

Prebiotic fibers are generally considered high FODMAP foods. However, there is enough fructooligosaccharides (a FODMAP ingredient) present to cause issues. 

Low FODMAP foods are suggested to people whose microbiome is so severely topsy turvy that they are unable to consume fermentable prebiotic fibers...at least until their gut flora imbalance has been slowly corrected. If you have been told that you should avoid high FODMAP foods, you should avoid our Broad Spectrum Prebiotic Fiber...but this product should be fine. 

Sincerely, 
InnovixLabs Customer Service

I appreciate that you list the exact strains of each organism included in this formula. In particular, I would like to ask about Lactobacillus reuteri. Why do you include the specific strain 1E1? I have been using a probiotic that includes the strain UALre-16. Is 1E1 better than UALre-16? I am looking for the strain that synthesizes the most vitamin B12. Also, the maltodextrin from corn concerns me, given that most corn is now genetically modified. Can you assure us that the maltodextrin in this product is not derived from GMO corn? Thank you.

Hi Lorien,

The Lactobacillus reuteri 1E1 is used in this formula because that is the strain that we know to be compatible and blend-able with the other strains in this formula. It is also a known, safe, and validated strain. Unless we conduct studies comparing this strain to the one you are using, there is no way to say with certainty whether one is better than the other with B12 production - that research has not been conducted to date. As is with many probiotic strains, it is the strains (not the species) that makes the difference. If you are happy with the strain you currently use, then we suggest continued use of that product or a mix of both. The maltodextrin is certified non-GMO. 

Thank you.

Sincerely, 
InnovixLabs Customer Service

Hello, The description at your page and the product description on iherb are different. Are the same product? Can I get the products listed on this page if I purchase on iherb?

Hi Sle kim,

All websites, including iHerb.com, Amazon.com, Walmart.com and this site have the same 'new & improved' formula. However, as of July 18, 2021, iHerb.com has not updated their product images to show the new formula or label. We are working with them to update product images. 

So, you should get the same product listed on this site if you purchase from iHerb today. 

Sincerely,
InnovixLabs Customer Service

What is the most efficient way to take the supplement? I am aware that on the product label it says that it is best to take it with a meal. However, I imagine that taking it with a meal will increase the time the capsule will spend in the stomach, and therefore the stomach acid may destroy more of the probiotics, even though of the stomach acid resistiant capsule? Moreover, if taking the probiotic together with a meal, is it important to take it with a meal that contains some fat? I am drinking some prebiotics (green plantain flour) right before sleeping, and was thinking it may be a good idea to take the probiotic together with the prebiotic before going to sleep. In general, would you advice to take the product in the morning, during the day, or before going to sleep, or does that not affect the potency of the probiotic? Best, Chris

Hi Chris,

Actually, setting aside the acid-resistant nature of the capsule, taking probiotics with a meal will blunt the severity of the acid exposure in the stomach, so it's a good idea to take acid-sensitive ingredients with a meal. 

You do not need to take probiotics with a fat-containing meal. 

There is no known advantage to taking probiotics at a certain time of day or in taking the probiotics WITH the prebiotics...as long as your diet contains a wide variety of prebiotics. By the way, green plantain flour is a good one, but you need a much wider variety of prebiotics from a wide variety of sources (this is why our prebiotic formula is made with diverse prebiotic sources...unfortunately, it makes the formula more complicated to make and it is a bit pricey due to all the ingredients). 

Good question. Thank you. 

Sincerely,
InnovixLabs Customer Service




Hi, what happened to Soil Based Organisms, Probiotic Yeast, PreforPro Phage Blend? It used to be included but now it's not?

Hi Alex,

All of those ingredients are part of the formula update made in May 2021. The formula currently available should have all of those components. 

Thank you,
InnovixLabs Customer Service


Hi, I just received a new bottle, sourced from Amazon, and this no longer lists L. sakei. Has it been removed, or renamed? (If this is a new formulation without L. sakei I will stop using the product.) Where can I find the product with L. sakei still in it?

Hi Angela,

You're right. Lactobacillus sakei is no longer in this formula.

This strain is sourced from Europe and it suddenly became unavailable a few months ago. This was strictly due to Covid pandemic-related supply disruptions. The facility where this strain is cultured was unabel to produce and ship it to us on time. 

The reason for including this strain in the original formula was the anecdotal evidence that L. sakei may help with sinus health. However, the evidence remains anecdotal and there are no gold-standard clinical studies to support the use of L. sakei for this indication.

We will continue to monitor the availability of this strain and the progress in supporting research.

We are sorry to lose you as a customer but there is a product called Nasobiotex you may wish to try instead. It is 100% L. sakei powder. It's available on Amazon https://www.amazon.com/Pure-Sakei-Probiotic-Powder-Billion/dp/B075D6CS5M/ We have not tried or tested the product, so we don't know how well it works. Just wanted to bring it to your attention. 

Thank you for reaching out.

 

whats the difference in taking multi strain probiotic and mood probiotic as genereal health supplement? and do i really need to take prebiotic as well in conjunction with probiotic? whats the benefit in taking prebiotic compare to getting nutrients from normal everyday food? I am just trying to understand how many supplements do i need to take as i just oredered Omega 3 from omegavia and planning to order Vitamin K2 as i used to take contraceptive pill for many years. I am just worried am i taking too many supplements together.

Hi Jasica – that's a great question. The Mood Probiotic is formulated for a very specific purpose – help support healthy mood by healing the gut. The Multi-Strain Probiotic is not formulated for a specific health problem. The Multi-Strain formula is meant to provide a 'broad spectrum' of strain to introduce as many healthy and documented strains of probiotics into your gut. Most probiotic supplements have 5-10 strains. We think a broad spectrum formula should have as many as possible. This is ideal if you are repopulating your gut after an antibiotic course…or if you are starting off with probiotics for the first time. The Mood Probiotic is a specific formula while the Multi-Strain is a general use formula. As for Prebiotic fibers, whether you need it depends on your diet. Prebiotics are critical for feeding the good bacteria in our guts. Whether you need it depends ENTIRELY on your diet. We usually tell our customers to eat 25 different vegetables per week. The wide variety of vegetables (along with legumes, nuts, berries, tea, and coffee), provide a wide variety of fibers (and the variety is the key!) to different bacteria in different sections of the gut. Different food provide different fibers and that is the key. We always prefer that you get your prebiotic fibers from foods. Supplements should always be secondary if you think your diet is less than ideal. You can take the three products (Mood, Multi-Strain, and Prebiotics) together if you wish. Nothing wrong with that. But only you can decide if your diet is optimal. If it is, great! If not, it's a good idea to supplement with some Prebiotic fiber – just start with small amounts like a half teaspoon per day. Thanks for the good question.

Hi, this product used to be in a tablet format but now it is in a capsule format. Can you tell me why the change? Does the capsule format work 100% like the tablet format? Any differences between the two that I should know? Thanks.

Hi CY - you're right, it used to be in a tablet format and is now in a capsule. This changed was needed because the tablet often crumbled, broke, or even turned to powder.

Regular tablets (like Aleve or Advil) have a nice slick coating to help swallow. Our original tablet could not be coated to prevent crumbling or powdering because the coating process involves moisture and moisutre is detrimental to the shelf-life of probiotics. Therefore, the original tablet was sold uncoated. This created a lot of consumer complaints about difficulty swallowing, powedering, and crumbling.

What we have now done is use the exact same ingredients (BioTract) found in the tablet form and put it inside an acid-resistant capsule. The acid-resistant capsule shell remains unopened for an hour or so, offering significant acid protection right after swallowing. After that, the BioTract ingredients react with moisture in the stomach and quickly form a protective gel around the probiotics. This goopy protective gel remains intact for a few hours, which is long enough to get most of the probiotics deeper into the gut where stomach acid is no longer an issue.

If you wish, you can do a quick test yourself: drop a capsule in a cup of water and witness what happens. If you want to closely mimic stomach acidity, add a tablespoon of vinegar to the cup of water. Regular gelatin capsules will dissolve in 10-15 minutes. The acid-resistant capsules remain undissolved much longer.

Ultimately, the purpose of the BioTract technology is to deliver as many of the live probiotics into the small intestine with minimal exposure to stomach acid. We believe the tablet and capsule work similarly. There are several probiotic products that contain acid-resistant capsules, but none as far as we know, combine acid-resistant capsules with the gel-forming BioTract technology.

Is it better for it to be kept in the refrigerator?

Hi Krista - you may keep unopened bottles in the refrigerator if you wish to extend the shelf-life or if you wish to store the product for a few months before opening the bottle.

However, opened bottles from which you are taking pills regularly may be kept at room temperature, as described on the label. There is no need to refrigerate this product.

Remember that these healthy bacteria are meant to thrive in the human body, which is always at 98 F.

What is the approximate amount of each strain listed?

Hi Joseph - most strains are evenly present between 1 and 5 percent.

Hi there - I'm in search of a probiotic supplement. Since I like so much of what you have to say, I wanted to check out your probiotic supplement. That is a lot of strains to include! Since it's still all in one capsule, my question is, does having so many strains compromise the amounts of each strain, or key strains, that can be put in the capsule? I know you can choose your strains depending on what you are trying to accomplish. But if you are trying to accomplish several things, then 31 strains sounds good! Thanks, Gail

Hi Gail - good question! The idea behind having 31 strains was to provide as many verified or studied strains as possible in one pill. Not all of these strains are going to be equally hardy.

Given that the shelf life of the product is 2 years, it is very likely that in the first 6 months or so, the mixture of strains in the pills you take will be similar to what was put in at the factory. It is also likely that some of the weaker strains may perish at a faster rate and at the 2-year mark, you may have more of the tough ones left standing. This is no different than a product that has 5 or 6 strains.

Probiotics are 'live critters' as our production manager calls it. Some are going to be tougher than others. We partially compensate for that in the formula by adding more of the weaker ones.

Is this product suitable for vegans?

Our InnovixLabs Multi-Strain Probiotic has some strains that are cultured in milk.

There may be trace amounts of milk in this product.

InnovixLabs Customer Service

Do I need to keep them in the fridge?

Hi Luca,

You can certainly keep them in the fridge if you wish to store unopened bottles for a long time, but you do not have to. The product is formulated with 'overage' of live cultures so that you will still get the amount claimed on the label. 

Since all probiotics gradually have lower live culture counts with time, keeping the product in the fridge may be a good idea if you do not plan on using the product for a few months. If you plan on finishing the open bottle within a month or two, it is not necessary to store in the fridge. 

Sincerely, 
InnovixLabs Customer Service

Is this product halal or suitable for vegans

Hi Shamim,

Other than the live probiotic cultures, this this suitable for vegans. There are no animal-derived ingredients, therefore, we do not have a Halal certification. 

Sincerely, 
InnovixLabs Customer Service

I know the directions day to take with a meal, but does it matter what time of day they're taken (with lunch for example)? Also do you know if Omeprazole affects the probiotics in anyway?

Hi Amanda,

Time of day does not matter - you can take these probiotics whenever it is convenient. 

Omeprazole (OTC reflux drug) will not hurt the probiotic if taken together. However, if you're taking the product under medical supervision, talk to your doctor about risks associated with long term daily use. This (and similar) drugs that work by reducing the acidity of stomach can cause some potential issues: 

1) Lowering the acidity of the stomach reduces the digestibility of some proteins
2) Lowering the acidity of the stomach makes the stomach a less hostile place for pathogenic (bad) bacteria in case you consume foods that may contain them. Stomach is designed to kill bad bacteria with the acids. If the stomach and intestines are not the pH (acidity) they should be, gut bacteria that are not meant to be in the stomach may begin colonize it. 

Neither of these are grave risks, but you should discuss with your doctor. Or, better yet, work with an integrative medicine MD who specializes in gut health to uncover the root cause of why you need Omeprazole in the first place. 

Hope this helps. 

Sincerely, 
InnovixLabs Customer Service

Is this product 3rd Party Certified? Whats the name of the company if you don't mind disclosing, as i don't see any tags/stamps on the bottle would like to know.

Hi Randy,

Yes, of course, all InnovixLabs products are third-party tested.

The Multi-Strain Probiotic is tested by Eurofins. They test for total potency (live culture counts), as well as confirmation of absence of environmental contaminants and pathogen (harmful bacteria). The testing is done immediately after manufacturing and bottling, so we know the results before bottles are shipped to customers. 

All the different ingredients and raw materials that go into the product are tested before manufacturing begins, so the third-party Eurofins testing is virtually guaranteed to pass with flying colors. 

Sincerely, 
InnovixLabs Customer Service

Are these spore based probiotocs as i heard they can colonize and harm the gi tractb just and is the phage blend safe to consume just want to know before i make my purchase

Hi Anthony,

Spore based probiotics of the genus Bacillus (also sometimes called Soil Based Organisms or SBO) and other similar spores are everywhere, including the air that we breathe and most outdoor surfaces. They do not harm the GI tract. All strains in the product are found in healthy human microbiome. 

Spores like Bacillus subtilis can even act like 'gut police.' In the absence of these spores, otherwise harmless gut bacteria begin acting like pathogens. But in the presence of spores, they either retreat or seem to become friendly. See this study: https://www.nih.gov/news-events/news-releases/nih-study-finds-probiotic-bacillus-eliminates-staphylococcus-bacteria 

Yes, the Phage blend is perfectly safe to consume. 

Sincerely, 
InnovixLabs Customer Service


Can you take your multi-strain probiotic with your mood probiotic.

Hi James,

Yes, you may take the Multi-Strain Probiotic with the Mood Probiotic. We have not seen any evidence that one interferes or counteracts the other. 

Sincerely,
InnovixLabs Customer Service

Is this product made in a cGMP certified facility? I can't find any information on it. Cheers.

Hi Matt,

Yes, of course, this and all other InnovixLabs products are made in cGMP facilities. 

We don't annouce this fact because it is such a fundamental requirement for quality. If you can reach out to a company and ask this question and get an answer, it is a virtual guarantee of cGMP certified facility. Most probiotics (not just ours) are made in FDA-inspected facilities. Or at the very least, the manufacturing facilities are open to receiving FDA inspectors at any given time. 

If you're shopping on Amazon.com all bets are off because there are a LOT of fly-by-nights on that platform based on published research by NOW Foods. 

Even with FDA-inspected and cGMP certified facilities, you could get a poorly formulated product. The FDA doesn't care if a formulation does very little to improve health...it cares that rules are followed during manufacturing and that everything is tested. The FDA doesn't care if the product is third-party tested or multiple third-party tested. 

With regards to probiotics, the FDA cares that if we say '5 billion CFU' on the label that we actually provide you with 5 billion CFU at the time of product expiration. 

There's a LOT more to a good product than cGMP, but yes, it certainly starts with that. 

We're here if you have more question.

Sincerely, 
InnovixLabs Customer Service
Great product
These probiotics work great love them!
Feeling better
My digestive issues are subsiding and I have only been using this product for about 80 days. I feel better and am looking forward to my future with this product.
Seems pretty good
I'm definitely not an expert but I did spend a fair amount of time looking into the probiotics on the market today. I ended up picking this one because it has some of the best diversity of bacteria species and it's in a delayed release capsule. That being said, a lot of the of the species have limited research. I wish that the ones that research showed were the most beneficial were more prevalent than the less known ones. I asked the company and they did say that there is approximately an equal amount of each species
Multi strain antibiotic
This is a really good probiotic. Both my husband and I feel a big difference by taking it. High quality!
Saved my gut health
I was informed by my doctor's PA about this web site. I placed my order for what was needed for my condition. When it arrived started taking it and what a difference it made. And the price was what I could afford.
Probiotics
By far, this is the best probiotic I've had in a long time! It's helped me with my indigestion problems.
Great customer service
I've used the MultiStrain Probiotic for years and absolutely recommend it. Recently though, my order was lost during shipping. I happy to report that InnovixLab's customer service was as helpful as their product. My order was replaced and arrived promptly.
multi strain probiotic
Excellent quality product with excellent gut results. easy to injest and no side effects. Excellent price and customer service.
Mood Probiotic and Multi-Strain Probiotic
Mood seemed to have a beneficial effect and Multi-Strain seemed to add to that.