Nourish your healthy gut flora, nourish yourself
Regular price
$24.99
Sale price
$24.99
Unit price
per
Sale
Sold out
The first prebiotic with over 15 plant-based prebiotic fibers
A must for those on Keto or Low-carb diets
Third-party tested and guaranteed gluten-free
View full details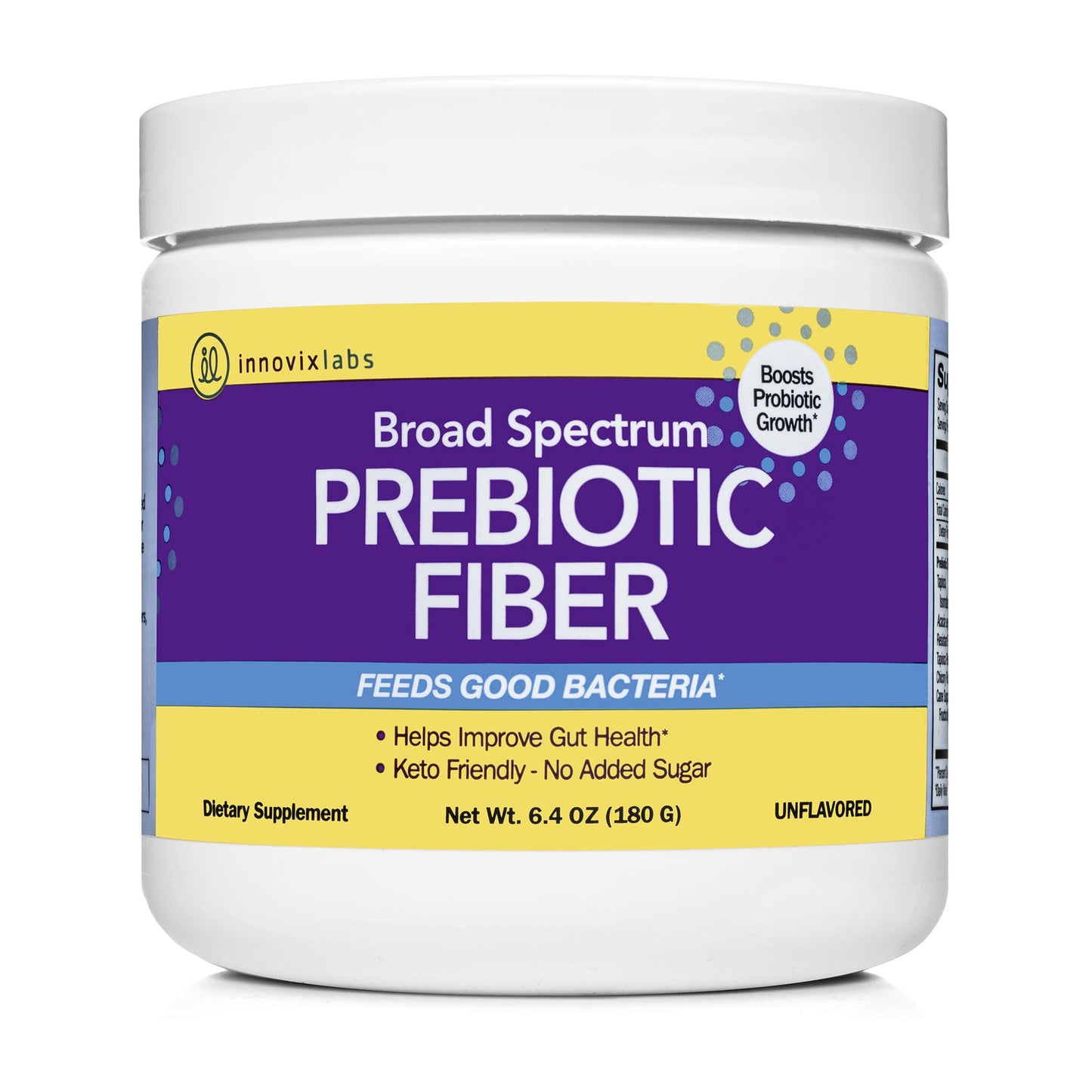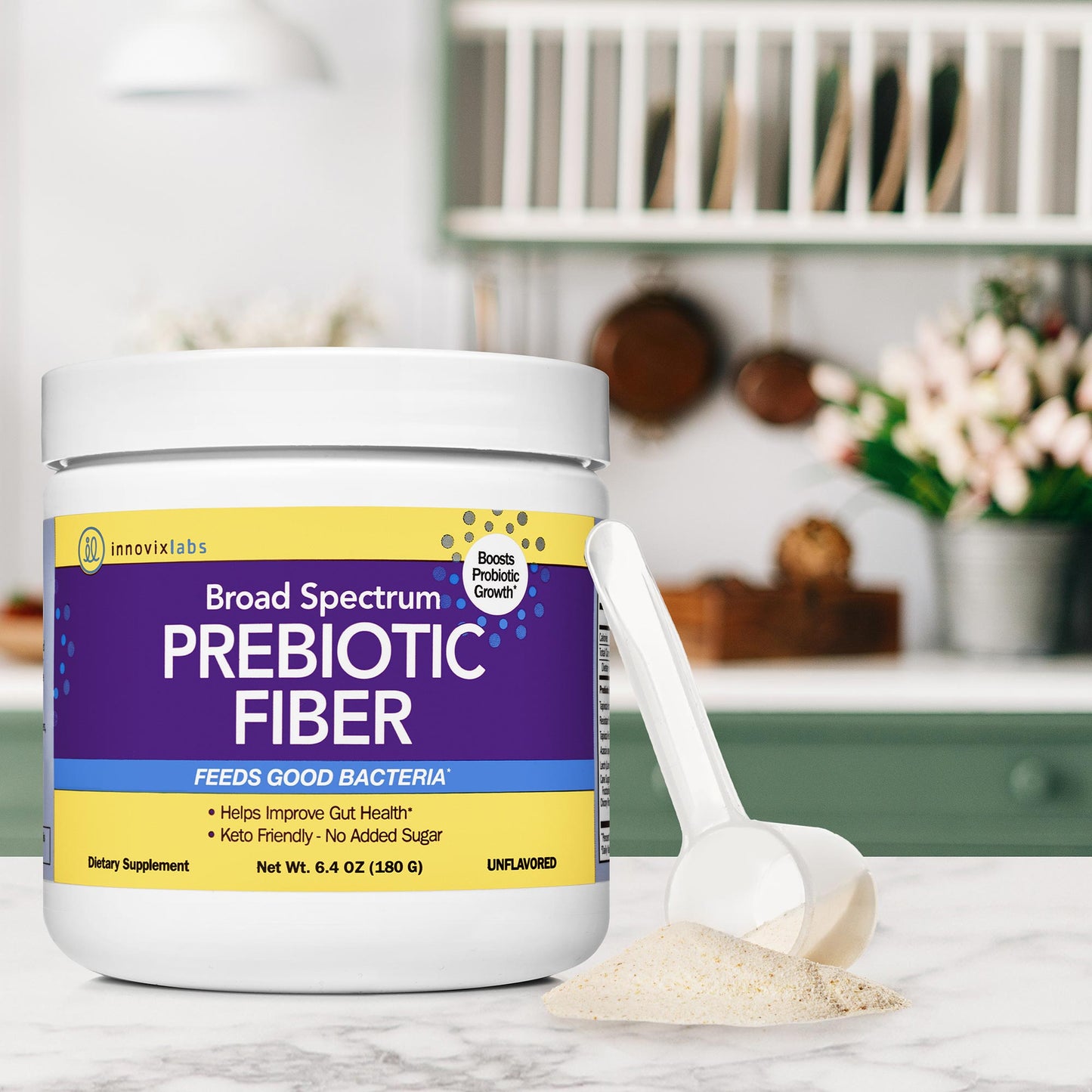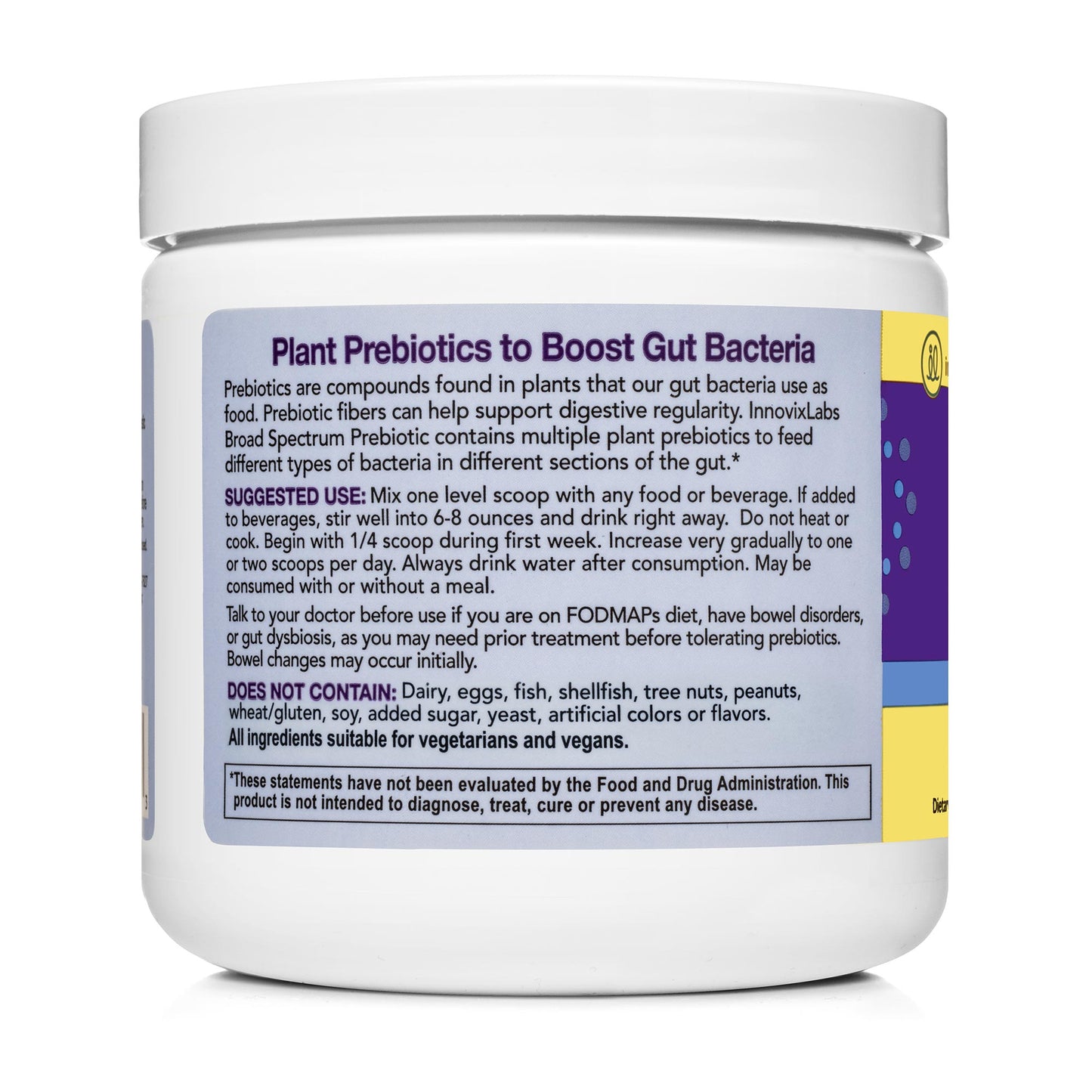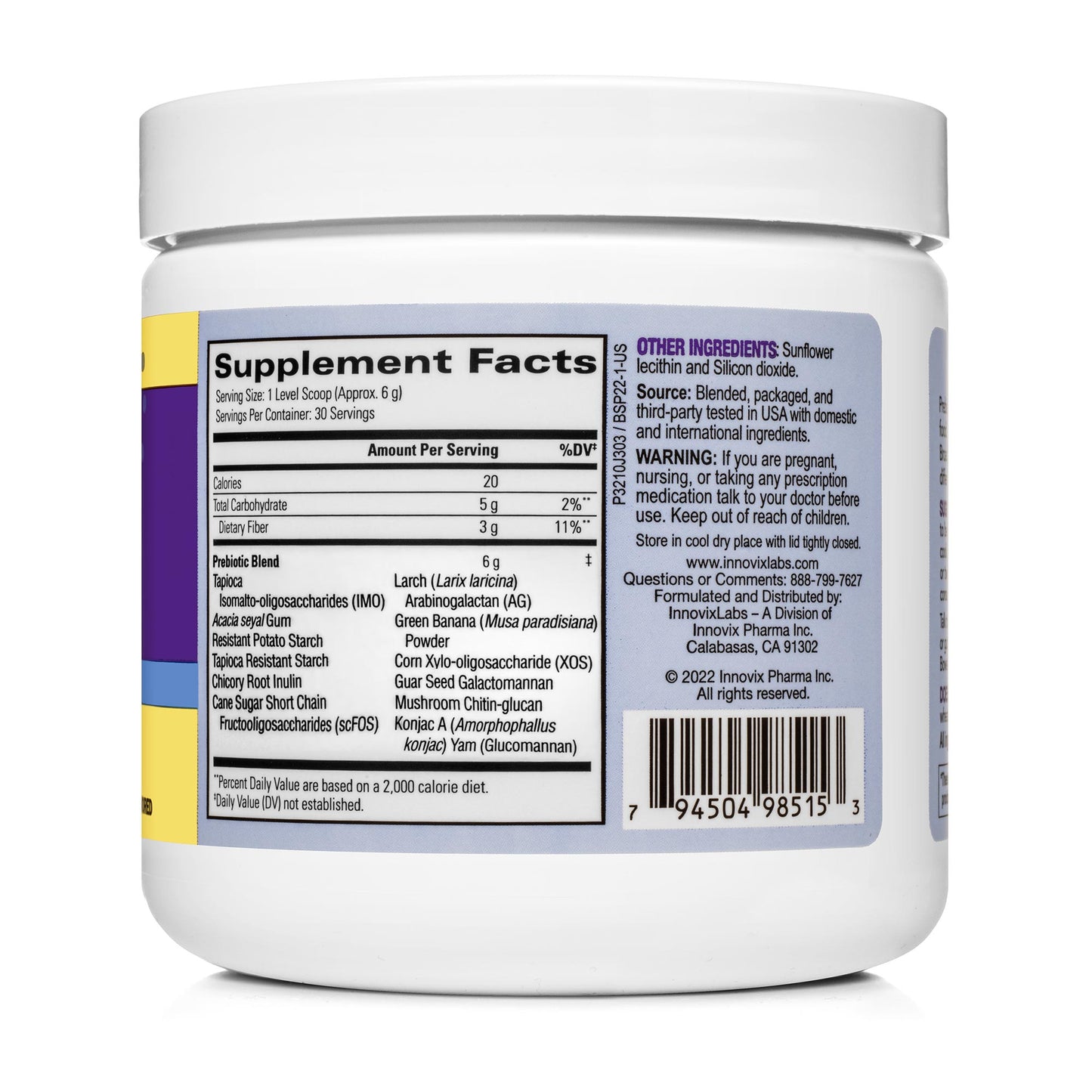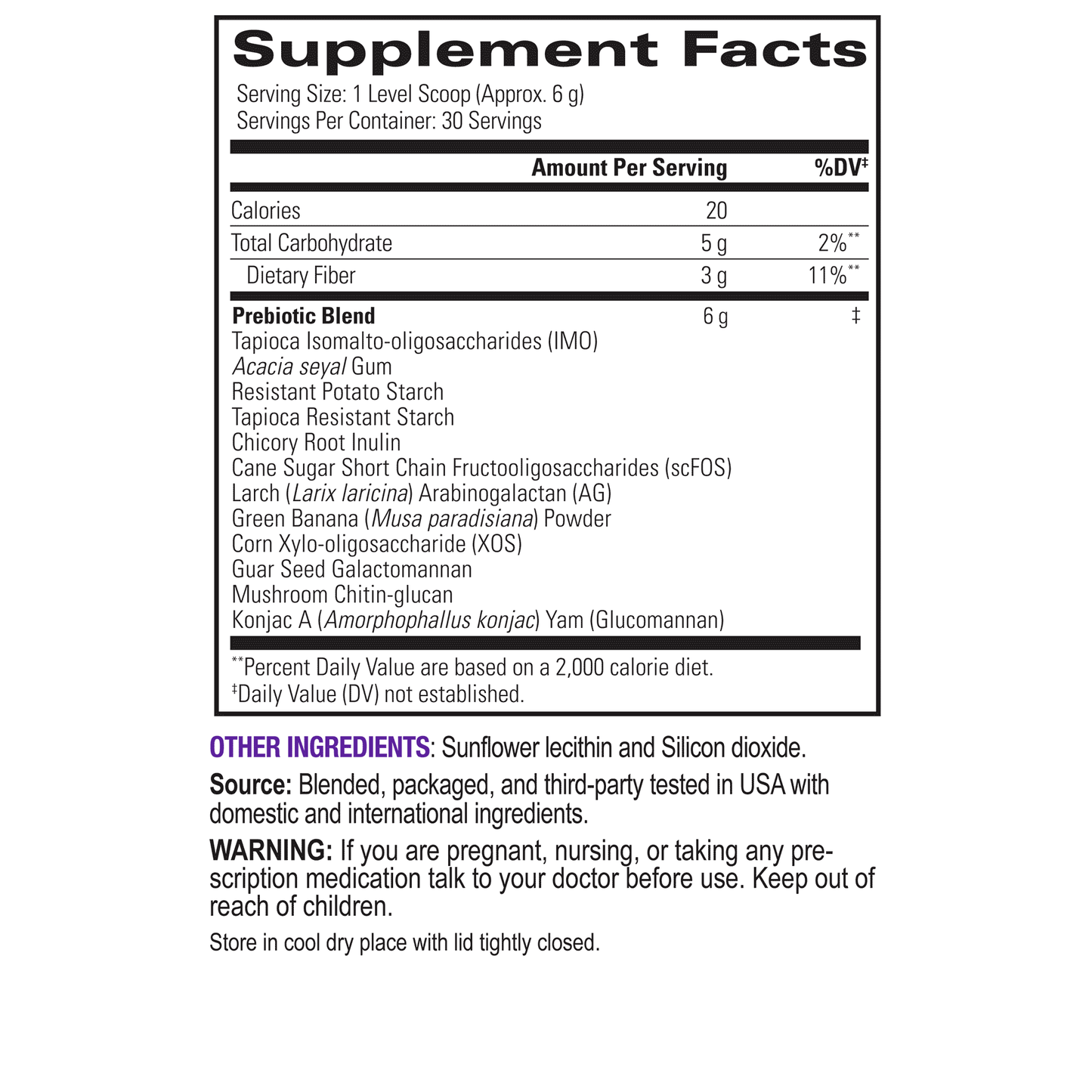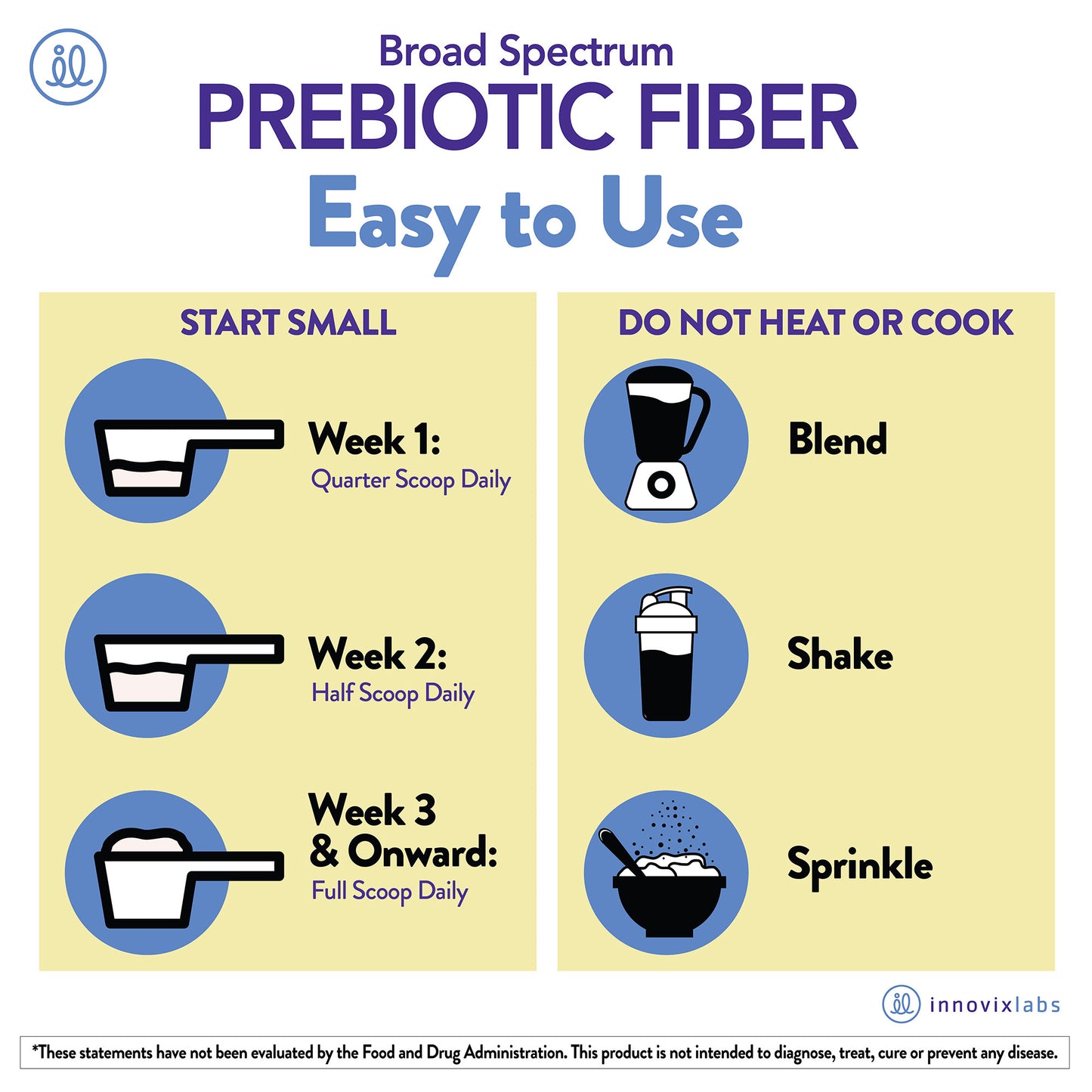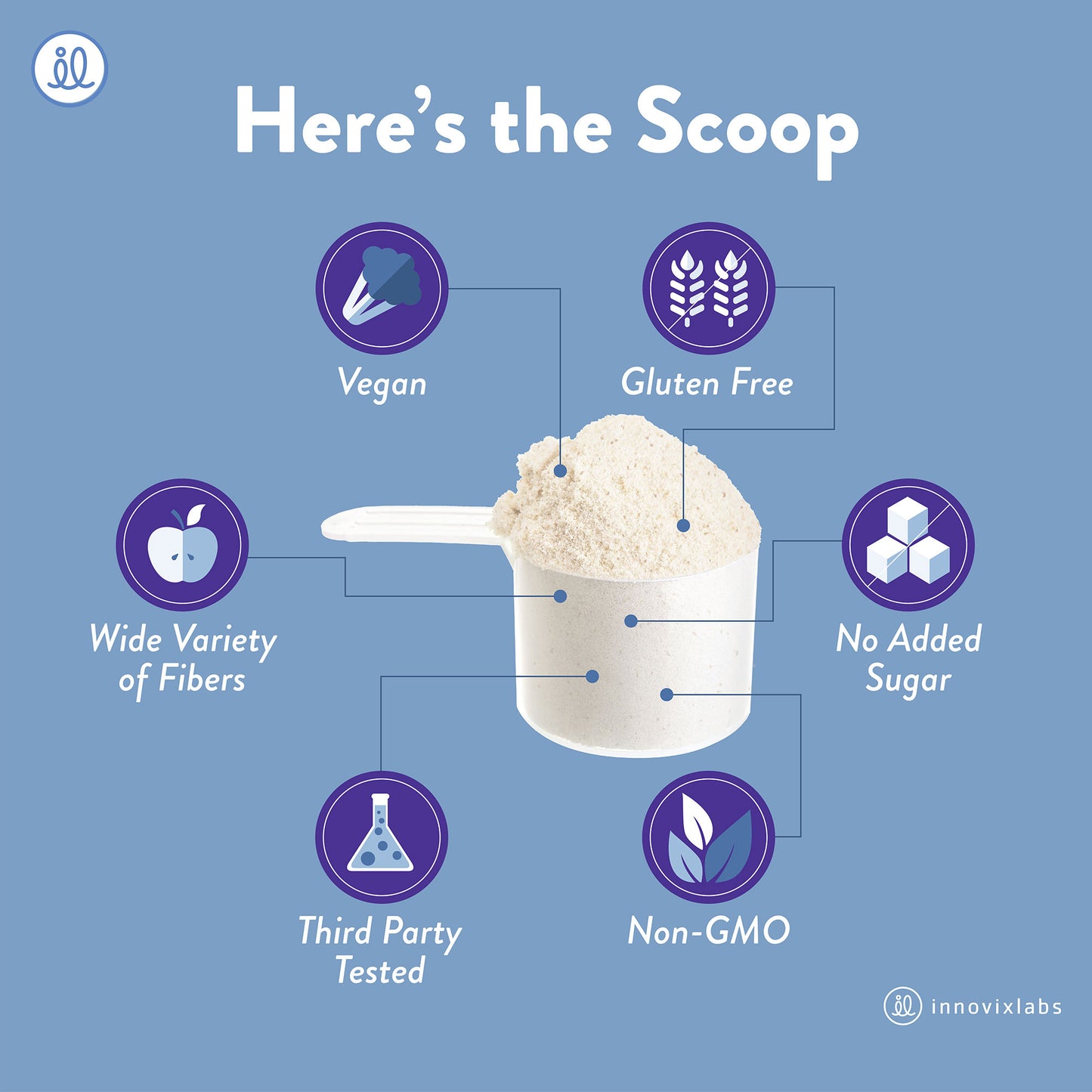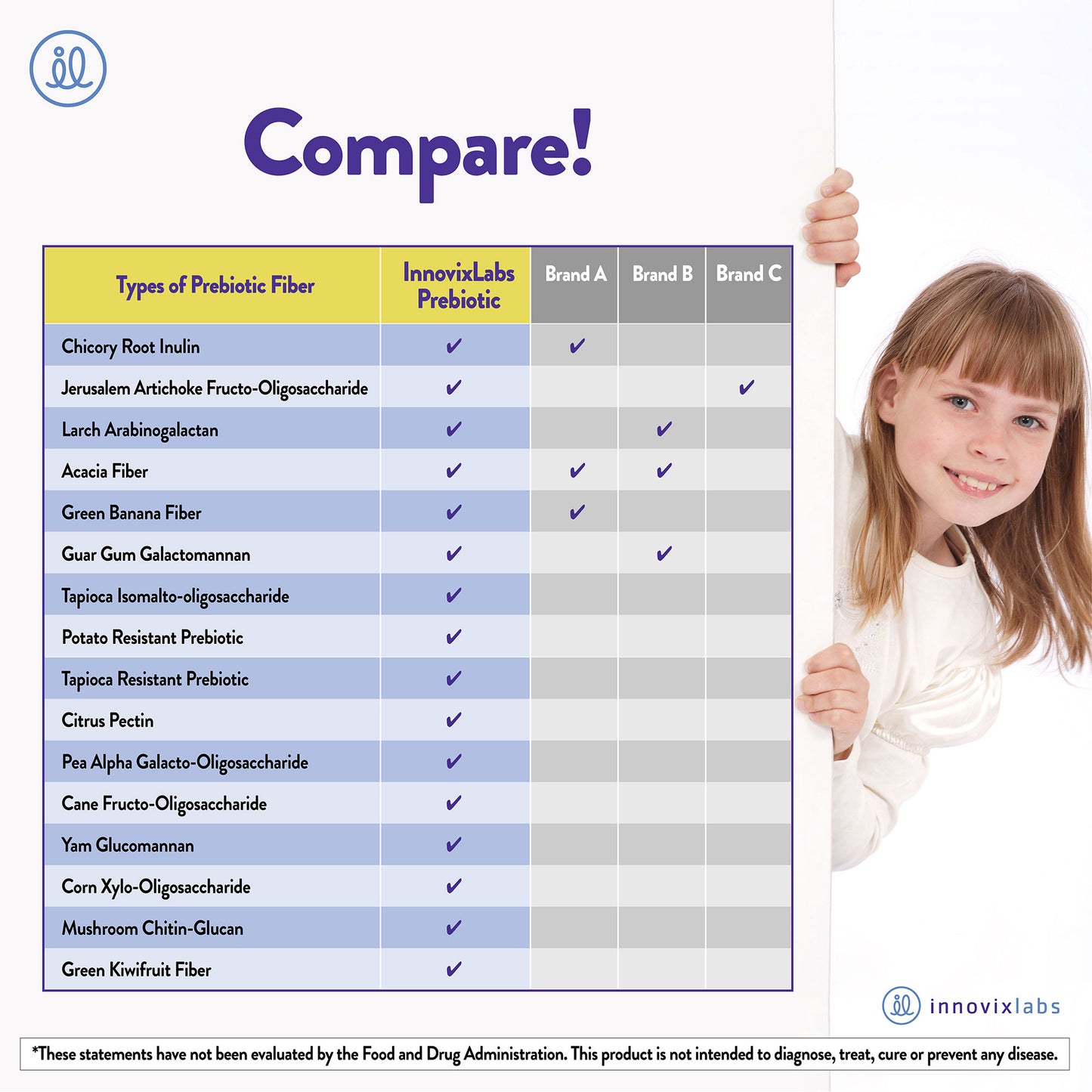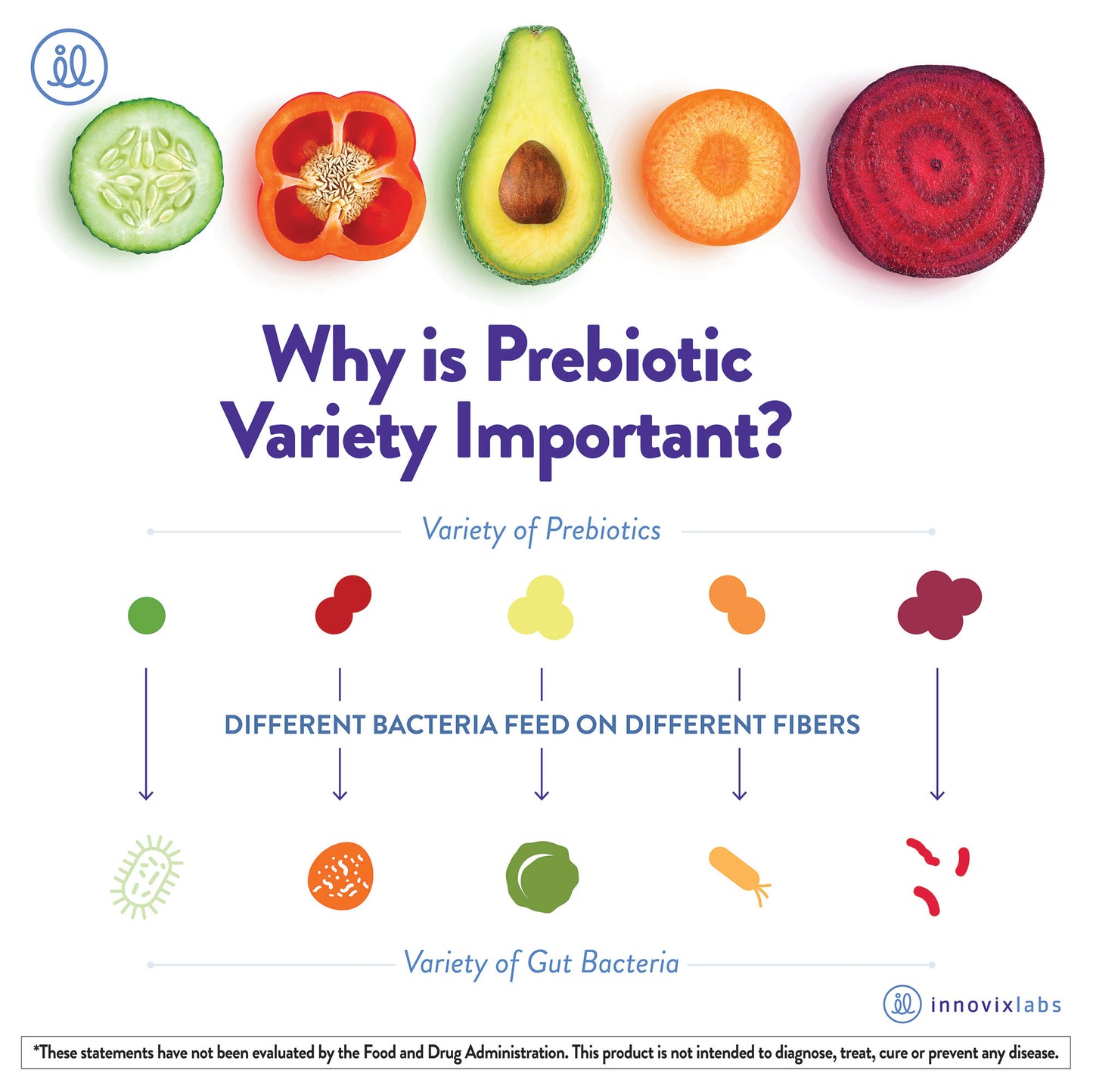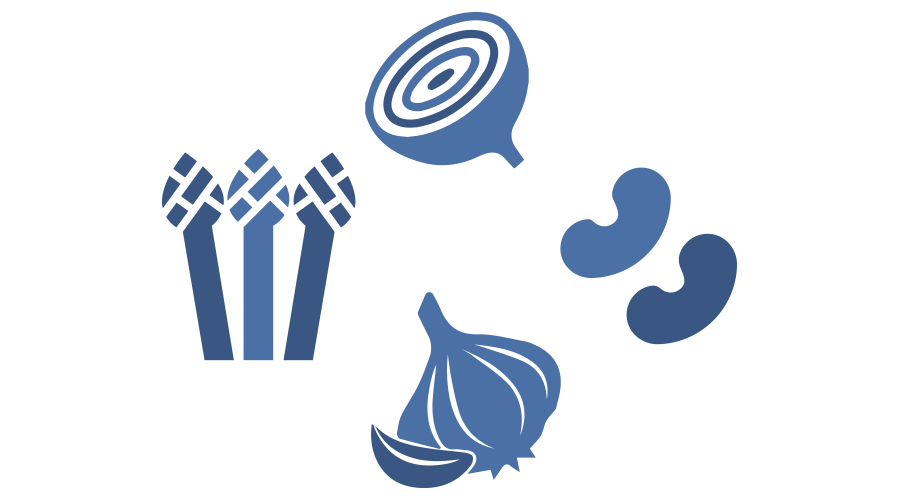 What is a Prebiotic?
PREbiotics are a type of healthy fiber that gut bacteria (PRObiotics) feed and thrive on. They're found naturally in some vegetables, nuts, and legumes. Humans cannot digest prebiotic fiber, but gut bacteria feast on them. Healthy, well-fed gut bacteria do their job better.*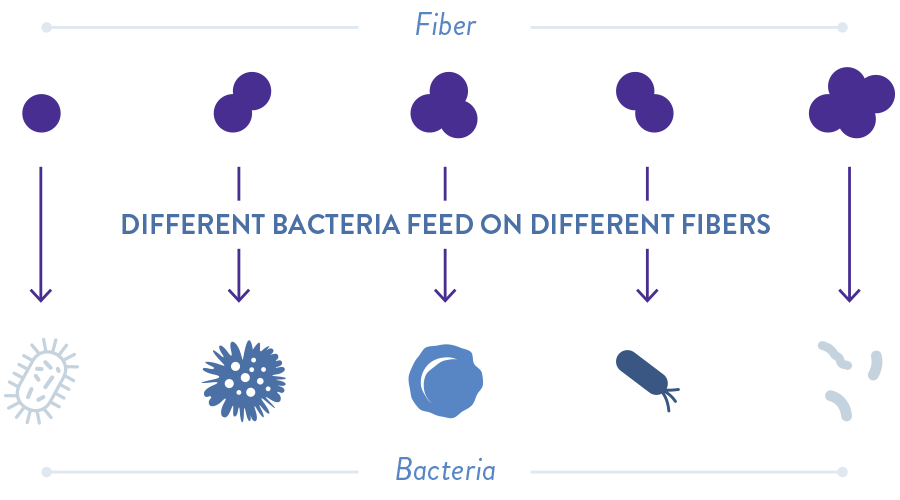 Why is Prebiotic Fiber Variety Important?
A healthy gut harbors hundreds of strains of bacteria, and different bacteria living in different sections of the intestine feed on different prebiotic fibers. That's why a diverse colony of gut bacteria require a "broad spectrum" (i.e., wide variety) of fermentable fibers to thrive.*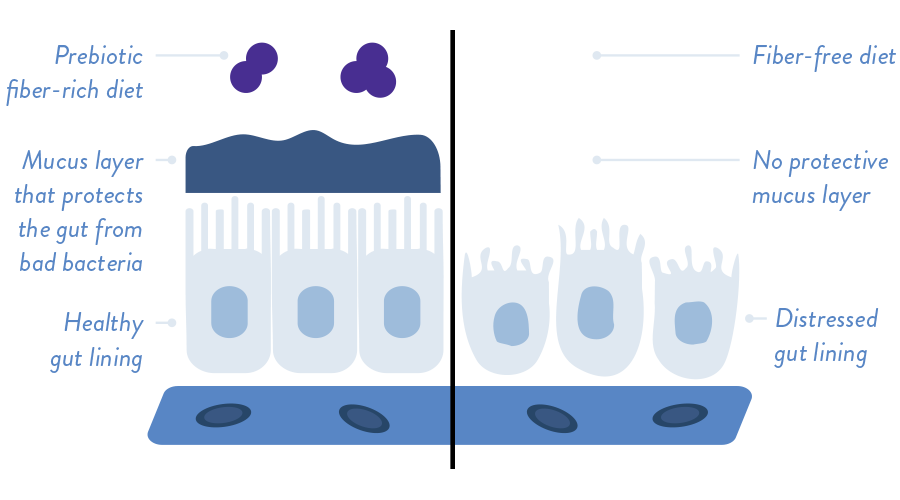 Why supplement?
Ancestrally, we consumed as much as 100 grams of fiber daily, from a wide variety of plant matter. Today, the USDA estimates that Americans consume just over 3 grams, when a healthy gut needs up to 20 grams of prebiotic fiber daily. A gut starved of prebiotic fibers (as in some low-carb or ketogenic diets) can result in dysfunctional and less diverse flora.*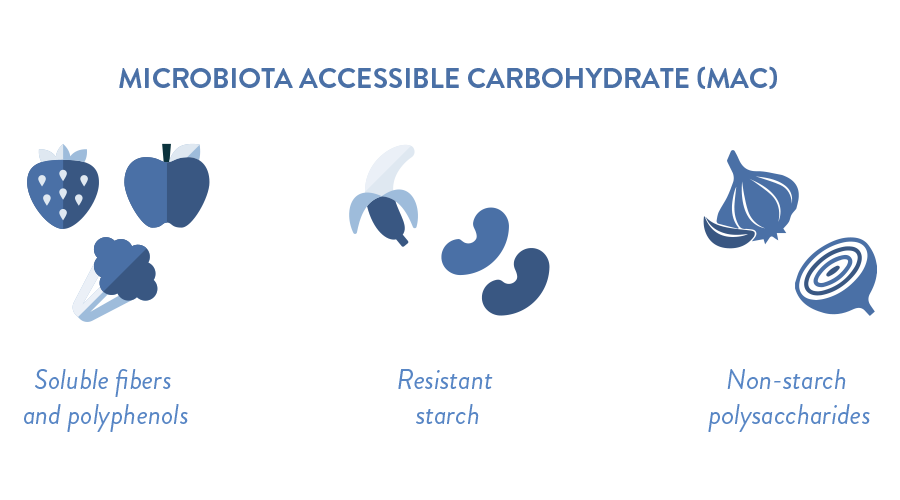 Why Consider InnovixLabs?
Inulin and FOS, two commonly marketed prebiotic fibers, are important. But they're not enough. InnovixLabs' Broad Spectrum Prebiotic is the first prebiotic supplement to have over a dozen types of prebiotic fibers. It is also the first supplement to contain all three major classes of prebiotics: soluble fibers, non-starch polysaccharides, and resistant starches.*
DOES NOT CONTAIN: Dairy, eggs, fish, shellfish, tree nuts, peanuts, wheat/gluten, soy, sugar, GMO, artificial colors or flavors. Third-party tested and verified GLUTEN-FREE.
Directions
SUGGESTED USE:
Mix 1 level scoop with any food or beverage (if in a beverage stir thoroughly and drink right away). Do not heat or cook. Begin with 1/2 scoop and increase gradually if tolerated to 1 or 2 scoops per day. Always drink with water. Talk to your doctor before use if you are on FODMAPs diet, have IBS, bowel disorders, infection, or gut dysbiosis, as you may need prior treatment before tolerating prebiotics. Bowel changes or bloating may occur initially.
STORAGE:
Store in a cool, dry place with the lid tightly closed. Keep out of reach of children.
ALLERGY INFORMATION:
If you are pregnant, nursing or taking any medication, talk to your doctor before use. Individuals sensitive to any of the ingredients listed on the label should consult a physician prior to using this product
Certified Sources
Guaranteed PURITY, POTENCY and FRESHNESS. InnovixLabs Broad Spectrum PREBIOTIC is made with premium ingredients, and produced to the highest standards of purity and quality in a cGMP approved facility. All batches are tested and verified by in-house and third party labs for your peace of mind. Blended, bottled, and in-house tested and third-party tested in USA for safety and reliability
Do you ship this product to Ireland? Margaret

Hi Margaret – yes, we can ship to Ireland. You can order directly from this website. - InnovixLabs Customer Service

Can your "Broad Spectrum Prebiotic" be added to a superfood green powder that is mixed with only "water"!I take a superfood green drink daily in the morning and I mix it with 8-10 ounces of water!

Hi Mac Baker - yes, the Prebiotic can be added to greens powders.

It is neutral to pleasant tasting, so it can be added to just about anything. If you cook it or heat it, the prebiotic fibers may become digestible by humans. As is, they are digestibel only by gut bacteria. - InnovixLabs Customer Service

The instructions say "do not heat." Does that mean we cannot add this prebiotic to hot tea or coffee?

Hi Rae Ann,

Some prebiotic fibers turn from non-digestible fibers to digestible carbs when you heat them. Not all prebiotic fibers, just some. 

So, heating could turn some prebiotics into carbs - this means the probiotic bacteria may not get any benefits from the prebiotics and you get extra carbs, which most of us do not need. 

Hope that helps. 

Sincerely, 
InnovixLabs Customer Service

Hello, my name is Antonio. I like the Broad Spectrum Prebiotic Fiber and i bought several in Iherb Tracking # ECIHB10000498007 and im going to buy some more.. But i am worried because i read this… Why are mushroom not good for health? Spores produced by some mushrooms might cause extreme allergic reactions in some people. Certain people might have mold allergies that are triggered by eating mushrooms. i understand that spores are in the fresh mushrooms but in powder the spores are not present? Thanks in advance.

Hi Antonio,

Mushrooms are very healthy and a recommended food for most people. Some people find the taste/texture offensive and a very small number of people are allergic to mushrooms.

If you have allergies to mushrooms, you should not consume this product or other supplements with mushrooms. We have clearly labeled Mushroom Chitin-glucan as an ingredient in the product. 

If you do not have mushroom allergies, then you should be fine consuming the ingredient. As for spores, there are millions of spores in the air that we breathe - you cannot avoid it. It's normal to inhale spores. 

Sincerely,
InnovixLabs Customer Service

One of your fibers is a galactomannan. Is this the same as a galactooligosaccharide (GOS) fiber? If not how does it differ? I realize the suffix "mannan" is not the same as "saccharide" but perhaps these fibers are similar? Please enlighten us. Thank you.

Hi Frank,

Galactomannan and Galactooligosaccharide are different. 

They have different molecular structures. As the name implies, Galactomannan molecule has a mannose backbone with side chains of galactose. The ratios of mannose to galactose varies depending on the source of the plant. We use Guar seeds as a source. 

GOS or Galactooligosaccharide is often enzymatically produced from milk. But it can also be sourced from peas, which is our source. Molecularly speaking, GOS is a chain of galactose. 

The purpose of having a variety of soluble fibers is to provide a wide variety of food sources (substrates) for as wide a variety of gut bacteria as possible. 

Sincerely,
InnovixLabs Customer Service

Approximately how much of each type of fiber does this product contain?

Hi Chuck,

Good question and bit of a lengthy answer, but we hope you find it useful. 

The fiber formula is designed like a funnel, with three sub-groups of prebiotic fibers: 

Top of the funnel: 3 or 4 fibers used by most gut bacteria is 40 to 50% of the formula. Inulin, Fructooligosaccharides, Isomaltooligosaccharides are used by the widest array of gut bacteria. Therefore, it makes sense to 'feed the masses' with these widely utilized fibers. 

Middle of the funnel: 6 to 8 fibers used by some but not all gut bacteria. These fibers are not valuable to all bacteria, but to the ones that feed on these bacteria, it could be life or death. Examples of these fibers are Pectins, Arabinogalactans, Xylooligosaccharides etc. Together, they constitute another 40% or so of the formula. 

Lower part of the funnel: 2 or 3 fibers like Glucomannan and Chitin-Glucan. We know these are prebiotics and we know a few gut bacteria value them, but we don't know enough about these bacteria or fibers. These are 5-10% of the formula. 

While we think this is a great formula, we acknowledge that this is STILL an incomplete prebiotic formula, even with 15 different fibers. Why? Because our ancestral human diet consisted of far more than 15 types of fibers. An ideal human diet probably contains hundreds of different types of prebiotics. 

So what's missing? Polyphenols. There are hundreds of polyphenols in foods and virtually all of them are bitter. Perfect exampels are: coffee and green tea polyphenols. They are fantastic for gut health, especially strains like Akkermansia, but adding green tea polyphenols will make this product too bitter to consume. Other polyphenols come from turmeric (also bitter), pomegranate, blueberries, apple skin, grapeskin, and on and on. We may at some point introduce a 'too-bitter-to-eat prebiotic' in a capsule form. In the meantime, all the bitter polyphenols are available as supplements and foods. 

Thanks for your interest in InnovixLabs Prebiotic.

Is Psyllium fiber considered a prebiotic fiber?

Yes, psyllium is considered a prebiotic fiber because it contains some SOLUBLE fiber.

It is a blend of soluble and insoluble fiber and it is the soluble part that is a prebiotic. If you are taking psyllium, certainly continue taking it. However, consider adding several prebiotic-rich foods to your diet because our gut probiotics require a wide variety of prebiotic to thrive.

A majority of the thousand or so strains of gut bacteria can consume Inulin or Fructooligosaccharides but a half or a third of the gut bacteria seem to need a variety of other prebiotics. So, if you're considering taking psyllium or already taking it, that's great. But just consider it a part of a variety of fibers needed for optimum gut health. 

Thanks for asking a good question.

Hello, Im trying to heal my gut as I often suffer from serious gastric that sometimes felt as though is back ache or bloating. I understand Probiotic heals guts and prebiotic is the additional supplemet that feeds the bacteria. I read here you mention, Broad Spectrum Prebiotic may caused bowel movement and bloating. Im bit concern, should i be taking prebiotic at all? would it worsen my gastric problem?

Hi Jasica, 

If you have gut health issues, increasing your intake of vegetables with prebiotic fiber is critical. However, if you decide to use a prebiotic fiber supplement, you may need to start slowly and at very low doses. People with gut issues desperately need prebiotic fibers, but sadly they are the ones who have bloating issues. 

If you have a healthy gut, you should easily be able to take a scoop or two of this product daily. But if you have gut issues, we recommend quarter or third of a scoop every other day to see how your body responds. If you do OK, then go up to half scoop daily for a week or two. It may take a month or so to get up to a full scoop. Just because your body responds negatively to prebiotic does not mean you do not need it. If you have gut health issues, you really, really need veggies with prebiotic fibers. 

Another option is to add polyphenols (another great prebiotic) to your diet - turmeric, decaffeinated green tea extract, blueberries, coffee, cocoa powder, dark chocolate, cherries, apples, black beans are all good sources of polyphenols. Polyphenols are absent in this product because they are very bitter tasting. So, they are best consumed as foods or capsules. The good thing about polyphenols is that they are much less likely to cause bloating or digestive issues. 

Ideally you want a mix of prebiotic fibers and polyphenols. Hope this helps. 

InnovixLabs Customer Service

Is this product vegan?

Hi Rachel, yes, it is vegan. 

Let us know if you have any other questions. 

InnovixLabs Customer Service

Can I combine this product with Multi-strain Probiotic, and how would it be advisable to do it??

Broad Spectrum Prebiotic FIber is very useful in combination with InnovixLabs Multi-Strain Probiotic.

The Prebiotic Fiber product has instructions on the bottle label to gradually introduce Prebiotic Fiber
to your Multi-Strain Probiotic regimen.

InnovixLabs Customer Service

I know this is a very technical question. Is this product appropriate for a low FODMAP diet? I have very sensitive SIBO condition! Thank you!

Hi Dan,

If you're trying to avoid low FODMAP foods as a temporary tactic to get SIBO (Small Intestine Bacterial Overgrowth) under control, then it is probably best to avoid this product because it is designed to provide you with fermentable fibers. 

While eliminating FODMAP foods is a powerful tool to 'right the ship,' long-term avoidance of FODMAP foods may cause more issues. So, once you are done with your treatment, and your doctor feels SIBO is under control, we suggest you find ways to gradually incorporate some fermentable fibers into the diet. 

In the meantime, polyphenols will need to pick up some of the slack from the absence of fermentable fibers. 

Hope that helps. 

Sincerely, 
InnovixLabs Customer Service
Food for Probiotics
I take probiotics and to help it become more effective I take prebiotic fiber. I had stomach problems before taking prebiotics and probiotics. Now I have no pain or stomach problems. This is a great product.
BS prebiotic
so glad innovix is carrying this - all their products are great!
Broad Spectrum Prebiotic Fiber
I can't really say, because I am a human, not a biotic.
But it's got a lot of different ingredients and I trust Innovix to have tested them with their broad spectrum probiotic. I take it at night with the prebiotic and wish the inhabitants of my gut "bon appetit!"
Works Great!
I take one scoop every night and it keeps my IBS in check! Definitely would buy again and recommend!
Great product!
These seem to be helping with stomach issues I have been having.
expecting?
I am not sure what I was expecting. But, my gut settled down, and I felt satisfied with that. Time will tell, I am sure. The prebiotic, along with your probiotic seem to be making a difference for my wife and I, especially when taking medication. I liked what I read on line before ordering. Compared to others this was a good choice.
Great Product
Purchased this in the past and also under a promotion on social media. Both transactions went great. Broad spectrum prebiotic. Highly recommended!
Awesome Probiotic
Absoltuely no aftertaste!
Fuel for an iron gut
I use this prebiotic in combination with probiotics in order to maintain my gut health. InnovixLabs is reliable and this is another formulation I'll be adding to my stack.